JMI student bags the Diana Award for innovating portable quarantine shelter space
Updated: Jul 2, 2021 - 23:07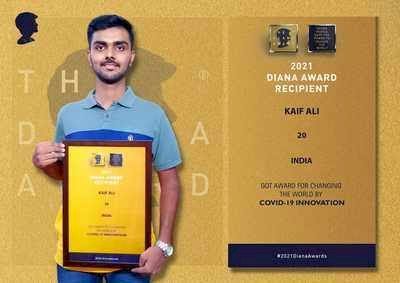 Kaif Ali, an architecture student of Jamia Millia Islamia, has been honoured with The Diana Award 2021 for his work on Covid-19 Innovation. He has made a portable shelter space for quarantine necessities.
Diana Award is the prestigious award named after princess Diana to accolade young social workers for their humanitarian interventions.
Ali has been awarded for his work on the Covid-19 Innovation –Space era, which is a module for demountable and portable shelter space for Covid-19 era and beyond. And it was during the last March when the pandemic was raging, Ali started working on this project.
Noticing the limitations of home quarantines or even at covid centres, Ali came up with an efficient intermediate space, which allows complete isolation. The shelter space he designed follows all covid protocols and above all is portable and can be set almost anywhere, near one's locality.
The shelter can be made with prefabricated sheets, or by using shipping containers. A standard shelter unit contains 4 shelter units with 96 beds, with flexibility of modulation as per requirements.
This is not Ali's first project in the humanitarian shelter domain. During his early college days, Ali has designed refugee camps as a part of projects. Ali has invested himself to innovate better refugee camps or disaster relief camps. And the Covid 19 shelter space was an innovation that came along with his earlier works.
Elaborating on the beginning of his innovations, Ali said to Hindustan Times that his works are self-driven. Ali was not approached by a university or any government body, it was his concern for society that lead him to these projects. And being a multi-tasker he designed his projects during his course works itself.
Ali has designed his project all by himself and is now contented that all his hard work is paying off, as several organisations are recognising his work.
Believing in the potential of young citizens, Ali wants them to follow the three I's; imagine, initiate and inspire. Ali adds that with consistency and courage, youth can bring changes in the world doing their profession.