Communal politics being played at the cost of Kashmiri Sikhs, says Sikh body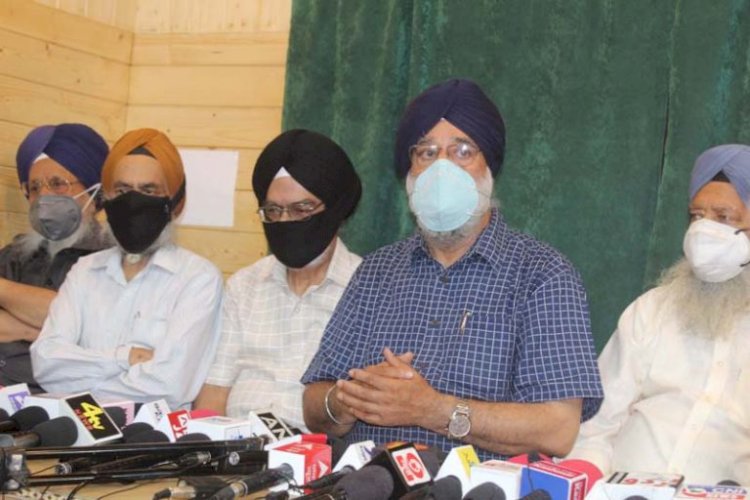 After the controversial remarriage of a Sikh woman to a Sikh man, separating her from her Muslim husband, following the allegations of forced conversion, prominent Sikh leader, Jagmohan Singh Raina said that there are no forced conversions in Jammu and Kashmir.
Jagmohan Singh Raina, chairman of the All Parties Sikh Coordination Committee (APSCC), blamed leaders from Delhi for making "offensive remarks" that would create conflicts among communities in Kashmir.
"The Sikh community in Jammu & Kashmir has been living in harmony with the majority Muslim community. Over the years many attempts were made to create a wedge between the two communities by the vested interests." However, these evil plottings have failed due to the strong bond that exists between the two communities, the Sikh leader said during a press conference.
Raina appealed for peace and said, "The people need to remain vigilant and ensure that the congenial atmosphere does not get vitiated. Since both the communities have supported each other through thick and thin it is the responsibility of members of both communities to continue with the synergy."
The Sikh leader also accused Delhi-based Sikh politician Manjinder Singh Sirsa, who also heads Delhi Sikh Gurdwara Management Committee (DSGMC) for insensitively bringing a communal angle to the issue.
"They want to play Punjab and Delhi politics on the shoulders of Kashmiri Sikhs," he observed and added, "We will not allow this to happen."
The Sikh leader, in the press conference, said that over the years members of elite political families of Jammu & Kashmir have had inter-caste marriage but surprisingly there was no outcry around them. "Whenever such an incident happens in a normal family the issue gets blown out of proportion," he said.
Meanwhile, the Mutahida Majlis-e-Ulema (MMU), an organisation of various religious bodies and clerics, refuted the claims that the Sikh girls were forcibly converted to Islam for marriage.
"On the advice of jailed Mirwaiz, senior leader Agha Syed Hassan Al-Moswi Al-Safwi met with members of the local Sikh community as well as representatives of the Shiromani Akali Dal to learn about the situation at hand that had created grief within the local Sikh community and to resolve it amicably. Islam is a religion of peace, tolerance, and concord, and that pressure or force has no place in Islam," the MMU spokesperson said.
MMU alleged that some external elements were deliberately trying to create communal tensions.