CoVID's impact on Gulf jobs may be unrecoverable, fear Keralites
Updated: Aug 19, 2020 - 01:43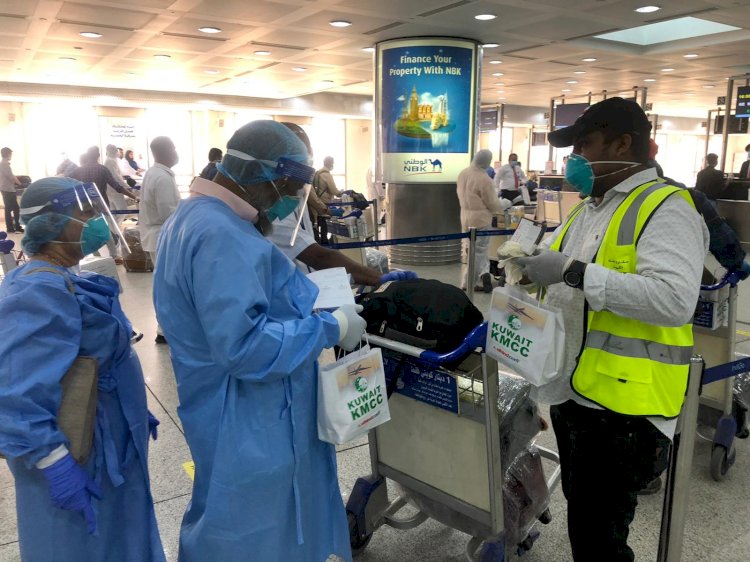 By Mrudula B, The Site
The emergence of a global pandemic like CoVID-19 has put a great strain not just on our medical infrastructure but also on our economic prowess. Given that the world, collectively, has never faced a problem of this magnitude, it is easy to see how CoVID-19 is impacting migration patterns and international economic transactions, especially in the southern state of Kerala.
Migrants to the GCC countries from various states of India are struggling to get their way back home and more worryingly, they are unsure about what the future holds for them.
As spoken to many who choose to stay and who have come back, a number of factors are accelerating the return- including the fear of job loss and anxieties about home and family. A small per cent of workers who have state assurance in the countries where they are working chose to stay back, while others have no option but to return since the other options are taking a long, unpaid leave, or resigning altogether from the job. According to International Labour Organization's global estimate report on international migration published in 2018, migrant workers accounted for approximately 59% of the world's international migrant population, turns to be a worrying fact in the times of a pandemic.
Perks of pandemic and forced expatriation
Yasin, a native from Thrissur, who lost his job and returned from the United Arab Emirates (UAE) says the company he had been working with has laid off 50% of its employees. Yasin was a heavy-vehicle driver at Emirates flight-catering company."The company which handles laundry and food services has around 14,000 employees. Normal flights services have been stopped for the time being. Even if flights services get back to regular, the company estimates that survival will be difficult for at least two years since eating in the flight is no more a norm. They assured us that we can re-join when things get back to normal and gave us a fair severance package. Airport-based companies are the worst affected in Dubai." Yasin is trying to move to Canada which is why he didn't stay back and look for a job in the UAE. "After four months I can go to Canada. That job will pay less, but I do not have much of a choice. I worked in UAE for six years and the settlement is good and I am hopeful of finding another job, I am not very tensed. People who lost jobs in my company include those who have bank loans to be paid off... for them this is an unexpected blow," he added.
The CoVID pandemic has come out at a time when Gulf nations are also undergoing labour law reforms, which have negatively affected the returning labourers. In UAE, for example, change in laws around visa cancellation has put returning labourers in an additional financial burden. On July 11, the UAE government cancelled its previous decision extending the validity of residence visas that expired in early March or were to expire soon until the end of December 2020. This troubled many expats who were to return to Kerala amidst the panic of the pandemic.
A youth from Kerala told The Site on the condition of anonymity that his boarding pass was cancelled since he had to stay back even after his visa was cancelled. This expat who was working at the sales department of a juice company had to face unemployment a month before CoVID hit the global economy. "I cancelled my visa in March. Due to delays in Embassy registration for the ticket, I had to stay back. Initially, the news reports said that those who cancelled their visa after March 1 need not pay the fine. From July 12, the amendment in residence visa expiration policy was made effective, it seeks to pay fine per day with expired and cancelled residence visa spent after July 12. I had to pay 412 Dirhams (8,400 INR). Most of the people who are returning are labourers who lost their jobs. They wouldn't be having extra money. They are on queue and making calls to their PROs. I have informed about this to many of them who are getting ready to return. They may have thought we have time till December." said the expat, with hopes to return to UAE.
Experts believe that regardless of which part of the world we are talking about, it will almost always be labourers who will be hit the worst. S Irudaya Rajan, professor at Centre for Developmental Studies, has research experience on international migration over twenty years. Professor Rajan, who has coordinated seven major migration surveys in Kerala, considers the current one as an unprecedented evacuation, unlike the Keralites experience post the Gulf war, the 2008 recession, the Arab spring or the enforcement of Nitaqat, to add more Saudi nationals aiming at reducing the native unemployment rate, eliminating labourers from countries including India from its private-sector jobs, implemented by the ministry of labour and social development. These stages of crisis shook the Kerala economy along with societal imprints, at different points from 1991, to 2008 to 2016 finally 2020 with the pandemic. "The evacuation that has happened now is just a beginning. By December, the numbers may get higher", Rajan told The Site.
Returning to Unemployment at Home
The estimated number of Indian expats in GCC countries is ten million. One-fourth of this is from Kerala. Tamilnadu, Andhrapradesh, Telangana, Uttar Pradesh, Rajasthan, Bihar and Madhyapradesh has a good number of migrant labourers, said Professor Rajan. Professor Rajan says the Gulf economy which is dependent on oil revenue which has come down has also caused job cuts and lay off.
"About 10 to 15% of Indian expats are expected to come back, of which up to 400,000 will return to Kerala. The initial rush to Kerala which was pushed by panic and fear of the uncertain living conditions could be just the beginning of the crisis. Most of them are returning to absolute unemployment in Kerala. India experiences extreme unemployment today. Internal migrants are returning to their homes. Even if it pays you less, you go for it. By December the numbers of returnees may get higher, but that doesn't mean every Keralites will lose their jobs, some of them would manage to find another job. There are wage cuts and violations followed by this lockdown, including salary theft. It is a pattern visible around the world."Rajan added.
The Indian economy and namesake state policies make rehabilitation of the returned grim. It is estimated that Kerala receives around 85,000 crores annually from remittances. Research by Centre for Development Studies Trivandrum assess 15% fall in remittance, reports ThePrint. As per the Kerala Migration Survey 2018 conducted by CDS, there is a steady increase in the total remittances when it began in 1998 with 13652 crores to 85092 crores in 2018. Though the state has a rehabilitation project in hand for the returning expats, it doesn't seem to be enough to address the current crisis.
CoVID making people bet on their future in Gulf
Advocate Omar Farook, who has recently come back to Kerala from Dubai, terms the expat as an 'economic refugee' who choose to leave home,to escape unemployment and unsafe economic conditions, for a better livelihood. "Many stranded expats are making their way out. Some of them will see their visas expired soon and will be left with no income. It is the responsibility of our government to facilitate rehabilitation for expats who return," he adds.
Adv. Farook said he had received complaints from several labourers regarding their situation. "With CoVID19, the new labour contract reached a point where the employer and employee can reach a mutual agreement. Those who can choose long leave as an option can do that. Dubai being a transit area sees a lot of the export-import developments. This industry has been dealt a severe blow with CoVID19. Small enterprises are getting shut. In many of these countries, expats didn't get exemption in rental deals. Such people, essentially lower-level staff, have no option but to leave. Another trend I noticed is that those who find a small possibility of sticking on are staying back in the Gulf. They are seeing that the pandemic is being controlled consequently and the government is nurturing hope in the citizens and migrants." said Farook.
Farook pointed out that in Qatar, salaries of expats working in the government sector were cut, while expats from countries like Egypt, India, Pakistan, Bangladesh, Nepal faced termination from government services. Employment sectors including restaurants, cafeterias, driving, salons, maintenance workers, designers etc. faced job losses. To reach budgetary targets in lieu of a falling oil price, the government was aiming at reducing expenses. Employment sectors including restaurants, cafeterias, driving, salons, maintenance workers, designers etc. faced job losses.
Kuwait, on the other hand, has shown a good recovery rate, says Hashid, a restaurant owner in Shuwaikh industrial area at Al Farwaniya. Though several companies terminated their expat employees since CoVID19 cases are at a high number back home, now many are deciding to stay back, he said. Hashid is a volunteer of Kerala Muslim Cultural Society's medical wing who has delivered urgencies to several CoVID19 patients. He says the stress caused the suicide rate to fall since the expats are relieved to an extent.
Sheeba from Kottayam, a school teacher in Kuwait returned on 16th July says the suicides were frequently reported from April to June in Kuwait, though she doesn't know the exact number of it. When the chartered flights started evacuating the expats, suicides caused by anxiety caused by uncertainty almost went down. Sheeba thinks that though the evacuation is on, the expats are not free from the risk of suicides. "Reports are coming in about deaths by suicides in quarantine facilities. They feel insecure, threatened and alien in one's own home and are anxious about how will others look at them. This is a case which deserves attention," said Sheeba who is being assisted by her daughter and mother in quarantine. Four suicides of immigrants in quarantine facilities are reported in Kerala within July.