Why poor Upper-caste people need financial assistance, not reservation
Updated: Oct 26, 2020 - 21:35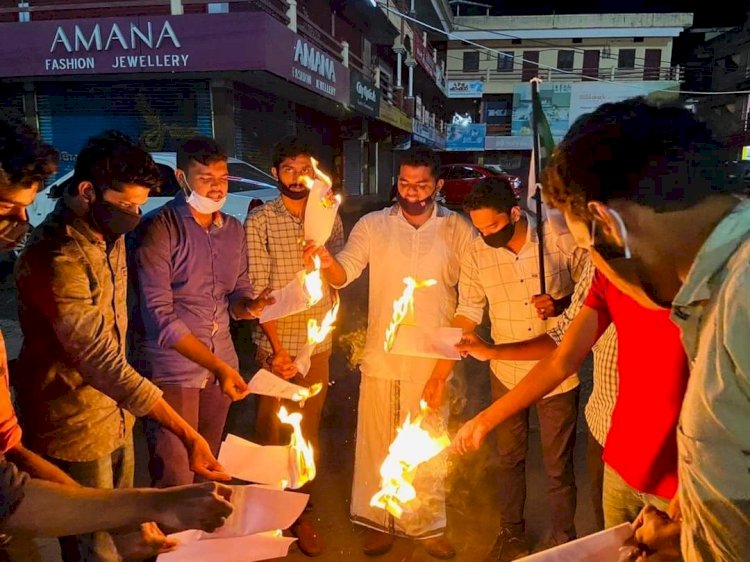 Muslim Students Federation (MSF) activists burning the copy of government order regarding upper class reservation in Kerala
By Yahya C for The Site
The debates on reservation are in limelight and a burning issue in Kerala. The so-called Left government has begun implementing 10% Reservation for the upper-caste economically weaker sections in PSC, Higher secondary and professional medical courses. This is on top of the 10% implemented in five Devaswom Boards – Travancore, Guruvayoor, Kochi, Malabar and Koodal Manikyam –, where, interestingly, upper-castes hold around 96% of the total jobs.
The recent implementation on forward caste reservation in Kerala is an open challenge to the backward communities and their very idea of reservation.
Reservation is a social contract, a constitutional guarantee to different backward social and weaker community groups.
Discrimination and exploitation by anti-human graded hierarchical caste system, different backward social groups and communities in India and Kerala demanded adequate representation, equal accessibility and their right to equity in resources, job sector, educational institutions and political constituencies in colonial period.
The contract and aim of reservation is on the basis of representational justice, not for poverty eradication or welfare schemes. So the objective resolution of the reservation tool addresses the historical social and educational backwardness of communities. Article 15 and 16(4) indicates that reservation belongs on the basis of social and educational backwardness, which is substantiated by the 1992 Indira Sahi case that reservation is not on the basis of economic criteria or poverty eradication. Constitutional debates and different reservation commissions (Kaka Kalekhar, Mandal commission) pointed out this stark reality of social and cultural incapability of weaker sections in public sections.
Reservation on the basis of the economy was firstly put forward by the first Kerala Chief Minister EMS Namboodiripad (CPM) who was the chairman of an administrative reform committee in the 1960s. Throughout the communist history in Kerala, they have tried to sabotage the reality of caste and focus on the economy and class nature. the idea of merit and creamy layer also put forward by that EMS chairman commission. In 1958, Kerala began implementing Reservation in subordinate services. In 1966, recommendations of Kumarapilla commission intermediate reservation intervened by economy and merit basis. The criteria of quality (Merit) has always been put forward by the savarna economic lobby against backward caste reservation. The wealthy class in backward caste argument shakes the idea of reservation. Those backward castes demand adequate representation which is branded as casteist. In the aftermath of backward reservation implementation (1958) in Kerala, Narendra commission's detailed study submitted their report to the government in 2003 which stated terrible backlogs in service recruitment as unfilled.
There is no reservation policy being followed in govt-salary aided management institutions. So the study indicates the inadequate representation of backward communities in population proportion is a stark reality in Kerala especially govt sectors.
There is no empirical data which prove the weaker sections in upper caste. Also, what is the scientific validity of 10%? Those who have Rs 4 lakh annual income and 2.5-acre land belong to the weaker section in forward caste. The prescribed Sasidaran Nair commission report on forward caste Reservation is a big mockery to backward communities. There are economical poor people in the backward caste also. Why is there a special favour and anxiety for the economically weaker section in forward caste. Poverty and economically weaker sections have to be addressed through economic packages and scholarships, not on the basis of virtual tool of reservation.
While we go through the recent forward caste Reservation implemented by Left govt, notified circulars say EWS Reservation will be allocated from the general quota. But the higher secondary and medical courses EWS Reservation has actually been allotted from the total sanctioned strength of the seats. This portion clearly sabotages the backward communities reservation norms and their accessibility. There are a number of seats (EWS) in higher secondary are still vacant. In the Malabar region, students from backward communities face inadequate proportional seats and terrible inequality. Connecting reservation into the economy clearly nullifies the contract of social justice and equilibrium. Sangh Parivar cleverly puts forward anti-reservation for strengthening their upper-caste hegemony. Subaltern movements and weaker sections public visibility and accessibility become a threat to Sangh Parivar. For that anti backward, anti-reservation tool laid and manipulated by so-called labour class communists,they hand in hand with Hindutva forces to dismantle the very idea of reservation and social justice.