Two more Ajmal Super 40 coaching centres to come up for marginalised students
Updated: Oct 27, 2020 - 19:52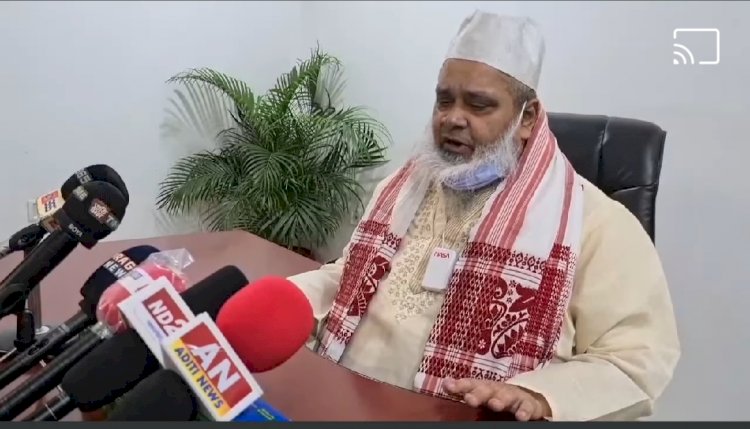 Maulana Badruddin Ajmal attending press conference at Hojai in Assam
Staff Reporter, The Site
Taking cue from the good response it received in last four years, the Ajmal Super 40 programme is all set to spread its wings to more students in Assam. This was announced by Lok Sabha MP and AIUDF president Maulana Badruddin Ajmal.
"Two Ajmal Super 40 coaching centres will be set up and these will help students from tea tribes, Scheduled Tribes (ST), Scheduled Castes (SC) and Other Backward Classes (OBC) prepare for competitive entrance examinations like JEE and NEET," Ajmal said while attending a press conference at Hojai in Assam. "I am pleased to announce two more Ajmal Super 40 campus from next year, one in Upper Assam and another one in Lower Assam. These are part of the efforts to put more emphasis on Tea Tribes, SC, ST and OBC students," he said.
Ajmal Foundation, a public charitable trust run by Ajmal Group of Companies, started coaching centre in 2016 along with other educational institutes which assist financially backward students to achieve their goals.
More than 100 students from the two years Integrated Coaching Programme have cleared NEET this year, of which 80+ students are likely to get admission in MBBS. Ajmal Super 40 was launched to help the students of North Eastern India to crack the toughest of entrance examinations such as JEE and NEET among others.
The idea behind the programme is to impart free quality science education to 40 well-identified Class 10 passed students from economically poor families to enable them to qualify national level competitive examinations for admission in medical and engineering. It is a fully residential integrated coaching programme for higher secondary board examination (Science) as well as engineering and medical entrance examinations such as JEE, NEET, BITSAT, CEE, etc. The classes are conducted in well-furnished air-conditioned classrooms in the separate campus for boys and girls," says Ajmal Foundation director Dr Khasrul Islam.
The students enrolled in this programme are given free coaching, free study materials, free accommodation, free food and pocket money of Rs 500 per month per student.
Students securing 85 per cent or above marks in class 10 examination and having a family income of less than 1.5 lakh per annum are allowed to enrol in the programme. Based on these criteria, 40 boys and 40 girls are admitted for this programme every year.