Ahmed Patel's demise leaves a void in Congress politics
Updated: Nov 25, 2020 - 22:44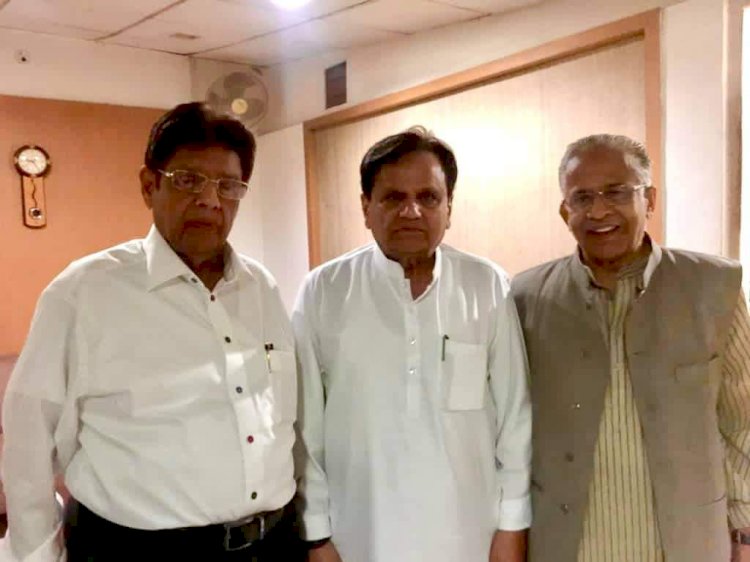 Ahmed Patel with former Minister of State for External Affairs E Ahmed (late) and IUML national organising secretary E T Muhammed Basheer
By Mohamed Shafeeq, The Site
With Ahmed Patel's demise today, Congress has lost its lone Muslim parliamentarian from Gujrat. And Patel has left a void that may remain unfilled for long. Patel is only the second Muslim after Ehsan Jafri to be elected as a Lok Sabha MP in Gujarat. And as of now, he is the only Muslim parliamentarian who represents Congress in Rajya Sabha.
The Congress veteran died today morning at 71 after battling Covid-19. The politician had been in a Gurgaon hospital since his health worsened after the infection.
Patel was not a leader of Muslims. But, he raised voice for Muslims and was often targetted for being a Muslim. Ahmed Patel got elected to Rajya Sabha after defeating BJP candidate in August 2017 after prolonged political uncertainty and drama scripted by the then BJP national president Amit Shah. By conceptualising 'Operation Defeat Ahmed Patel', the BJP showed its willing to go to any extent to prevent a Muslim leader making entry to Parliament.
"Patel won the election leaving Amit Shah's threat and ploy unstruck. He was a secular leader, who was not spared by BJP for being Muslim. During last Gujarat Assembly polls, BJP campaigns said Patel will be Chief Minister if Congress wins the poll," commemorated IUML national organising secretary.
The Lok Sabha MP noted that Patel maintained a good relation with the party and he was a mediator between Congress and IUML.
Patel chose to be a think tank after he found his Muslim name preventing him being a leader in electoral politics.
"He was secular to his core and, despite the majoritarian assault on his community, he refused to yield and fought bravely till the end to uphold the fundamental principles of our Constitution," former Union Minister P Chidambaram said in a series of tweets.
Patel started his political career by contesting local body elections in the Bharuch District of Gujarat in 1976.Patel has represented Gujarat for eight terms in Parliament. He was also the treasurer of the All India Congress Committee.
"The near silence of the NHRC is surprising. Two major human rights abuses have occurred during this pandemic and we are yet to hear from this constitutional body," he tweeted.
Patel was born on 21 August 1949 in Bharuch based agriculturalist family, as the third child of Mohammed Ishikji Patel and Hawaben Mohammedbhai in western Gujarat. Loyal to Gandhi family, Patel was picked by the then Indian Prime Minister Indira Gandhi in 1977 to contest elections for the sixth Lok Sabha from Bharuch. He won the elections and also won subsequent Lok Sabha elections in 1980 and 1984, continuing to represent Bharuch in the Parliament through 1989. In 1985, he went on to become the Parliamentary Secretary to then Prime Minister Rajiv Gandhi. In 2005, Ahmed Patel was inducted into Rajya Sabha for his fourth term. Though considered Sonia Gandhi's chief strategist, he chose to keep out of the UPA government in the 14th and 15th Lok Sabha. He had also been appointed as the treasurer of the All India Congress Committee in 2018.