Thirst for knowledge turns WhatsApp group into a coaching centre for Dalit and Muslim youths
Updated: Sep 23, 2020 - 14:33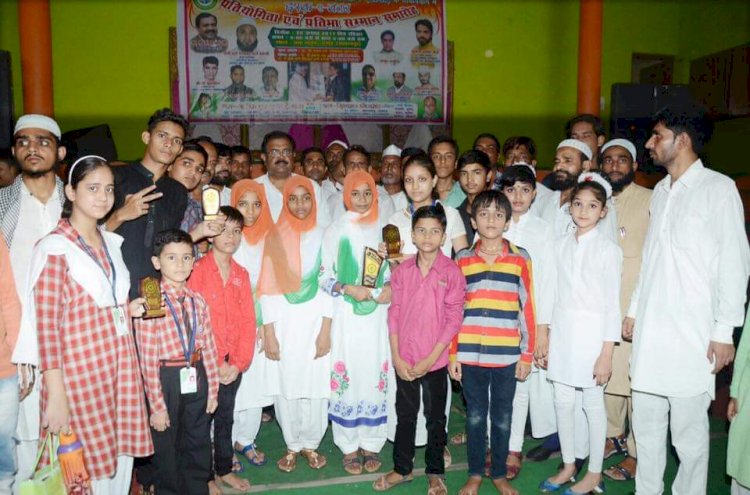 By Mohammed Anas, The Site
One of the most interesting outcomes of the global pandemic COVID-19 has been the way social media has stepped up to provide support to children and youths who cannot attend schools and colleges. But for many, social media tools have always been powerful in providing a platform for knowledge distribution. Just ask some youths from Western Uttar Pradesh.
A WhatsApp group which started as a leisure activity has turned into a full-fledged welfare society running a coaching centre. It now provides free science coaching of science subjects to economically weak Muslim and Dalit students in Gangoh town of Saharanpur district in Uttar Pradesh. Besides, as the coaching classes have halted, the group members are actively supporting those affected by lockdowns because of Covid-19 pandemic.
The group, which was started in 2016 as an initiative to promote scientific knowledge, attracted members from across the country.
The group was named "Scientific Inventions" and it shared information about complex scientific concepts in easy-to-understand methods.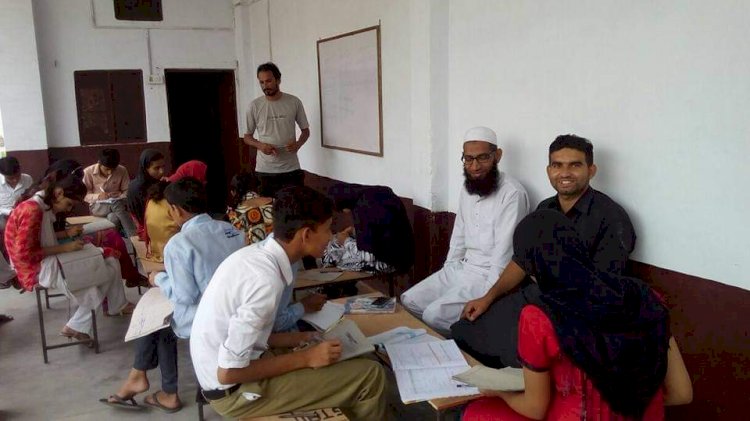 Mustaqeem Chaudhary, one of the group members, said that their group became so popular that people started pressing them to share their knowledge with the students. "And we agreed. And thus, a coaching centre imparting free coaching to around 30 students was inaugurated in June 2016 and it continues to this day," he told the Site. The admin of the group is Jan Abdullah, an Afghan descendant based in Saudi Arabia.
Since Gangoh town is mostly inhabited by Muslims and Dalits, said Mustaqeem, the coaching also invited students from these two communities.
"Children from Muslim and Dalit families lag behind in education and they need the educational push the most. We are trying to make up for the void in their lives," says Mustaqeem.
Mustaqeem added that the coaching institute building was chosen in the vicinity of Noor Chaudhary Cinema in the town so that both the Hindu and Muslim children can easily visit the institute.
Slowly, the coaching institute run by these enthusiasts became so popular that they decided to form a welfare trust to formally register it. "And thus, the Al Khidmat Welfare Trust was born in 2016," said Wasil Khan, the secretary of the trust.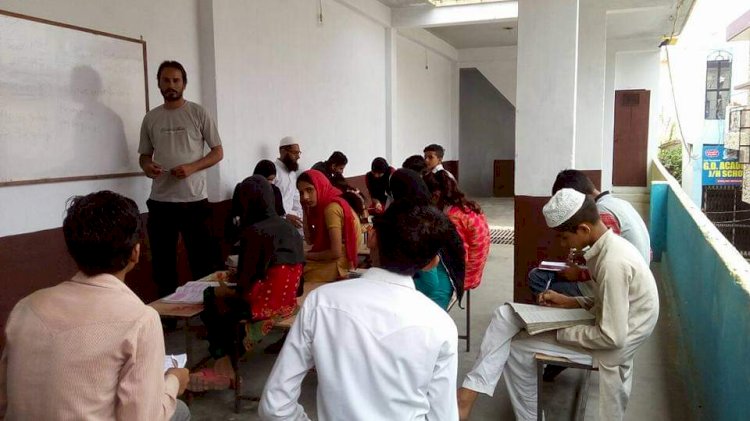 The trust collects money from whoever wishes to donate. "We go door to door to collect money for our trust. People donate from Rs 10 to Rs 10,000, depending on their capacity," said Wasil.
Right now, around 104 students are registered for coaching by the trust. "They belong to Class 8, 9 and 10. We are preparing them for entrance exams of universities like Jamia Millia Islamia and AMU. Besides, we also plan to prepare our students for job-oriented competitive exams like SSC, Banking Recruitment, etc," said Mustaqeem.
But, the coaching classes of the institute have come to a halt because of government guidelines in the wake of Covid-19 pandemic. So, the trust members have decided to provide relief to those affected by joblessness in the lockdown period.
"We have been providing food to around 500 people daily. An influential personality of the town, Haji Saleem Quraishi, has provided fund for this relief work. The owner of Naushad Hotel has rented out his kitchen for free to cook food for the needy," said Wasil.
There are many Hindus of the town who are associated with the trust. "People like Anit Chaudhary, Balbeer Singh Tomar and Lokesh Salarpuri are attached with the trust and keep helping us in one way or the other. Similarly, people like Aneeta Arya, who is a teacher, has helped us to find a suitable and cost-effective place to run our institute. She has also helped find teachers," said Wasil.
Despite praiseworthy work of the trust to promote education in the backward town, Wasil and Mustaqeem said, the trust has faced opposition from religious quarters.
"Gangoh is famous for being the birthplace of Rasheed Ahmed Gangohi, the founder of Dar-ul-Uloom Deoband seminary, and there is a network of madrasas in the town and its vicinity. People from poor background usually prefer to send their kids to these madrasas. We have tried to bring these kids to mainstream education. And hence, we have been accused of sabotaging cause of madrasas by some maulvis. But we have defied them are determined to move ahead," said Mustaqeem.
Mustaqeem added that the trust plans to rent a huge patch of land to build a mini athletics track.
"It will be to prepare children and youth for the Army and Police recruitment tests where athletics skills are a prerequisite," said Mustaqeem.