Tunes of despair: Marriage bands face the music of joblessness in times of COVID  
Updated: Sep 13, 2020 - 14:21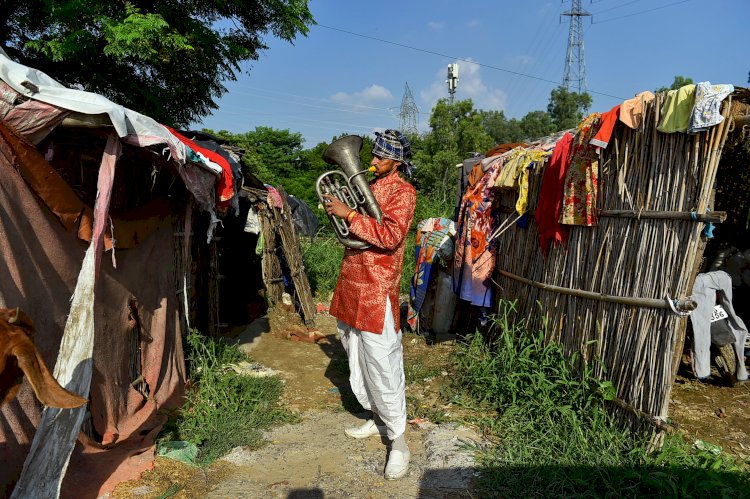 By Mohammed Anas, The Site
New Delhi: One of the most visible changes to our society since the pandemic hit us has been the way marriages have changed. From being the Big Fat Indian Wedding as we know it, they are now a much more simple affair, sans wedding bands, big crowds, and lavish food. This has, in turn, hit the people who depend on providing such services the most.
Take, for example, people who were part of wedding bands. Out of work for over six months now, artists are eking out a living now by working as salesmen, daily wage workers, porters, etc. Many of them are also selling their instruments, lights, mares and buggies. They are even renting out their small offices as shops if they own any.
With a maximum of 10 guests allowed per wedding because of COVID restrictions, bands are not exactly on the priority list of wedding organisers.
Shakir Marriage Band in Nai Basti, Okhla, was the most sought after band for marriages in Okhla village and New Friends Colony. Its owner Shakir Hussain is now a labour thekedar (manager). "After sitting without work for about three months, this was the only job that was available in Delhi as some of the construction work and other labour jobs opened in the city. Being the owner of the band, I had some savings and thus survived the idle period, but my staff have been forced to accept labour work to pull carts of their families. I manage to find work for them and thus have become their thekedar," Shakir told The Site.
Shakir's staff members-Raju Yadav, Kamlesh Saini and Ashfaque-can sometimes be seen standing at the Labour assembly point in Okhla every morning to find work as daily wagers.
Similarly, Jameela Khatoon, the owners of six mares, in the same locality, Nai Basti, has turned her animals into porter vehicles. "Three of my sons carry bricks and mortars on these mares at night. During the day, the police doesn't allow these sturdy mares to be used for manual work," said Jameela.
Jameela said that the cost of her mares goes up to around Rs 25 lakh and that they used to fetch around Rs 5,000-10,000 per wedding. "But since they were without any work now, they were only piling up expenses for me. So, I decided to make some money by plying them to carry mortar and bricks for construction sites in South Delhi. They bring Rs 2,000-3,000 per night," said Jameela.
This is not just the story of Okhla, however: tales of sudden penury can be heard from marriage bands in Old Delhi and East Delhi, or perhaps from the entire capital and country.
Karamchand Band group in Sita Bazar in Old Delhi was a big group of around 35 members. Now, its office is a lassi shop. Some of its members are selling vegetables and some are driving rickshaws.
Pappu, the trumpet player of the band, asks the Site to appeal to the Delhi government to exempt marriage bands from the restrictions of the number of people at the marriages. "We can play music by maintaining social distancing," he said.
When this correspondent contacted the office of Gopal Rai, Minister of Labour and Employment, his secretary said that the minister is aware of the deteriorating condition of almost all sections of employed and self-employed classes. However, the office of the minister doesn't make it clear whether the Delhi government plans any major plan to revive the generation of employment for working-class people like those employed in marriage bands. "We are opening all sectors of Delhi economy under our jurisdiction like restaurants, construction work, transport, etc. It will hopefully bring the economy back on track slowly and people will be back to work," said the secretary.