Majiziya Bhanu – the strongwoman made of willpower and hard work
Updated: Sep 23, 2020 - 14:30
By Najiya O, The Site
Majiziya Bhanu is different – just like her name.
When girls her age went to learn 'spoken English', she got trained in boxing, which soon shifted to arm-wrestling and powerlifting. The 25-year old from the tiny village of Orkkatteri near Vadakara in Kozhikode district is the world champion in powerlifting in her category. And now during the CoVid lockdown, she is all into charity activities. She proves well that strong willpower combined with hard work will help one achieve anything.
Back in 1994 when their first child was born, Majeed and Raziya were so overjoyed that they wanted a unique name for the little girl they held close to their hearts. And thus was born the name 'Majiziya' – with the first few letters in both their names. Majiziya Bhanu is a common name in households now, with the owner of the name establishing herself as the strongwoman from Kerala.
Into the world of power
Though interested in power sports since childhood, the village that Majiziya Bhanu grew up in had no facilities for women to get training. So, she was confined only to athletics back then. She got the opportunity to pursue her dream when doing the second year BDS at the Mahe Institute of Dental Sciences and Hospital. When the group of friends decided to spend their vacations productively, many joined a spoken English course and the like. That was when Majiziya decided to join boxing training in a gymnasium in Calicut, from where the trainer redirected her to powerlifting. Soon she joined another gymnasium in the city for training in powerlifting and showed her power by winning a gold medal in the district competition held just two weeks later.
There began her journey of victories – in the district, state, national and international championships. However, she rose to fame when she won gold in the Model and Fitness Basic category for female participants at the Mr Kerala Competition held in Kochi in early 2018. The hijabi bodybuilder in the field known for body exposure drew the attention of the media. Bhanu's first international medal in powerlifting was at the Asian Powerlifting Championship held in Indonesia in May 2017 where she won silver. She soon tried her luck in arm-wrestling too. She became No 6 ranked in the world in the 55 kg women's category after participating in the 40th World Arm-Wrestling Championship held in Turkey in October 2018. She bagged the Best Lifter Award at the World Powerlifting Championship held in Russia in December 2018, and the next year also she became the world champion in the championship. She has also won silver at the Asian Classic Powerlifting Championship (Deadlift) held in Kerala in December 2017.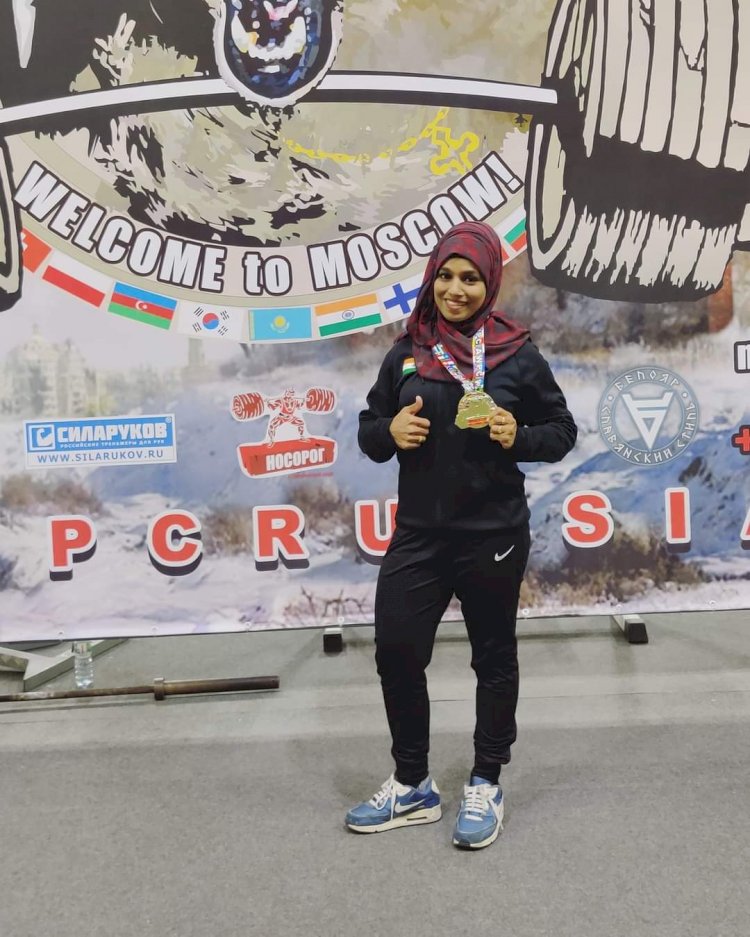 However, arranging funds to attend the championships has been a bit difficult for the international champion. She had to request financial help from her well-wishers barely two weeks before the world championship in 2019 when a company which had reportedly agreed to sponsor her withdrew at the last moment. She counted on her friends and well-wishers, which included individuals and groups, who have always been ready to lend a helping hand for this winning girl. However, Bhanu is hopeful that it won't be a problem now onwards. "After the last championship, I got some more media attention and a few people have contacted me offering sponsorship for the next", said Bhanu. "But every athlete dreams of participating in championships under the banner of a brand. It is indeed a different identity, which is much more than the financial aspect," she added. The media attention also helps her choose the most comfortable modest sportswear. While she had to get modest sportswear stitched based on the models available online earlier, now companies send her their products as a compliment. Now she is wearing modest wear by the US-based 'WithHonour'.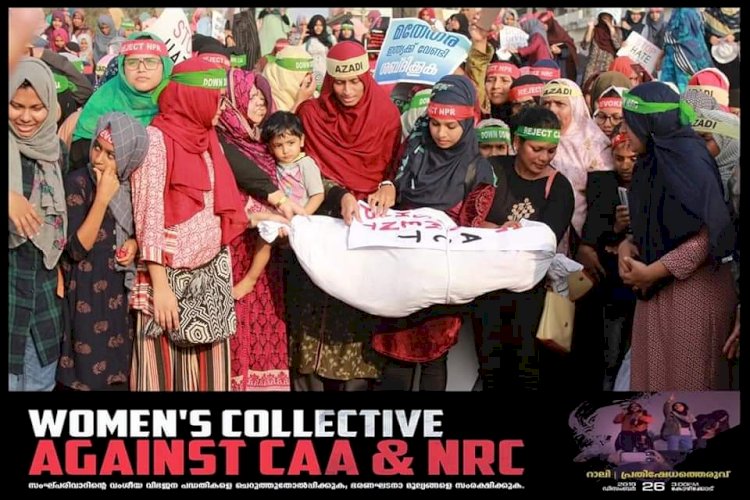 She also expressed her dismay in the way sports and games other than cricket, football and hockey are covered in the Indian media. She hinted that several powerlifters were not accepted or recognized, and were struggling without a job. However, she added that she had got good media attention, perhaps because of being a Hijabi powerlifter. Being a hijabi has brought good and bad experiences for Majiziya, who is determined to keep her identity loud and clear while answering the questionnaires with her mind-blowing performance.
In the field of charity
Majiziya Bhanu entered the field of charity through the 'Save A Child' (SAC) foundation when the SAC contacted her to be their brand ambassador. "At that time, I had just won medals and had good media attention too," said Bhanu. "After I joined there, I came to know that there is a lot that we can and have to do. I give 100 per cent to whatever I am involved in, be it sports, education, charity etc. Similarly, I worked hard there too. But gradually many differences of opinion came up in the foundation. I saw lack of transparency and fraudulent acts there, which prompted me to fight against the foundation and I resigned from it. It is no longer functioning now." There has been a war of words between Bhanu and the Foundation through press meets, after which she moved legally against the SAC.
However, now she is in the field of charity works on her own, focusing mainly on the education of children. "A generation that does not get an education will grow to be poor and devoid of opportunities. If we can do something in this matter, it would be great," says Majiziya. For example, if a student finds difficulty remitting fees in college, Bhanu informs a few people of the matter, some of whom might be ready to directly pay the fees at the college. "We have no financial gain in this, instead we need to spend some time and effort. But if that changes the future of a person, the satisfaction that we get from it is much more than anything else."
Dream – training academy and charity foundation
Having grown up without any training facilities for women at her village or the town nearby, Majiziya has always dreamt of setting up an academy for training the budding talents in her place. "It is my dream. And I also know it's not that easy. I wish to fulfil that dream in maybe 2-3 years," says the 25-year old. The academy that Majiziya dreams of needs investment and proper planning to be set up. However, while she had to travel nearly 2 hours for training in a gymnasium in Calicut at the beginning of her career, now she goes to the gym at Vatakara, the nearby town, which has facilities for both men and women.
The satisfaction from charity has led her to dream of setting up a foundation for charity activities, on which she is working now but 'the CoVid lockdown and holidays are delaying matters'. Bhanu wishes to combine the academy and the foundation, so that the profits if any from the academy could be channelled to charity works.
Meeting cultures by travel
Having travelled to a lot of countries including Indonesia, Russia, Turkey and Gulf countries, Majiziya likes Turkey the most. "It is both a Muslim and European country at the same time. The liberalism that I could find there is wonderful - a tattooed person wearing shorts and another wearing burqa can be there in the same house. They have the free mind to support and accept these extremities in the same family," says Bhanu. Being a hijabi herself, she is also attracted to a large number of hijabi sportswomen from the country who, just like her, have proved that attire is not a matter if you have the willpower to win. Bhanu recounts that the hijabi sportswomen that she met there were happy to see the Indian hijabi strongwoman.
Future plans of the dentist-strongwoman
Majiziya Bhanu entered the field of power sports when pursuing second year BDS. And now, she is waiting to complete her internship to officially be a medical professional. In these four years, she has bagged medals and risen to fame, and wishes to establish herself in the field of charity works. New fields are also opening up before Bhanu, who is eagerly waiting for gymnasiums to open in October.
Bhanu informed that she has been contacted by the Strongman Corporation India to participate in the International Arnold Strongman championship to be held in Poland next year. Having tried and succeeded in powerlifting, arm-wrestling and bodybuilding, this is a new field for her, for which there are not many participants from the country. That it is listed in the Olympics, unlike her other fields, is an added advantage. "Isn't it always good to try different fields?" The power girl is all hopeful.
Bhanu, who likes to read and cycle during her free time, considers patience and determination as the secrets of her success. The strong support from her family can never be ignored – be it from her expatriate father, homemaker mother who raises goats, chicken and buffaloes at her farm, or her brother who likes choreography and is doing business in Qatar. And for the upcoming generation, especially girls, she has one strong message – "Just ignore the negatives that come your way and move on, you will achieve your goal."