Prime Minister praises Aligarh Muslim University for its unprecedented services during Covid-19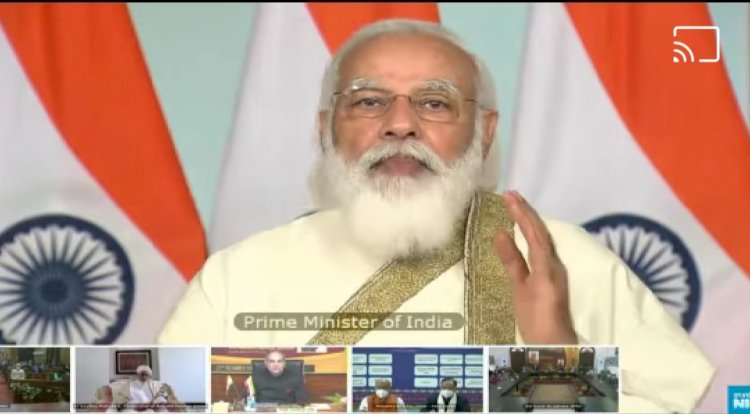 Prime Minister Narendra Modi has praised the Aligarh Muslim University saying it has worked to strengthen India's relations with many countries. "The research done here on Urdu, Arabic, and Persian languages, research on Islamic literature gives new energy to India's cultural relations with the entire Islamic world," the Prime Minister said while addressing the centenary celebration event of AMU via video conferencing.
"The history of education attached to AMU buildings is India's valuable heritage. I often meet AMU alumni during my foreign visits, who very proudly say that they've studied from AMU," he said.
While referring to the services rendered by AMU during Covid-19 crisis, Modi said; "It's unprecedented the way AMU helped the society during this crisis of coronavirus. Free tests for thousands, building isolation wards and plasma banks and contributing a large amount to the PM Care Fund shows AMU's seriousness in fulfilling their obligations to the society". He added AMU has significantly contributed to the PM CARES fund. "All show your sincere intent towards working for the nation,"he said.
Modi also released a postal stamp during the event. Chancellor of the University Syedna Mufaddal Saifuddin and Union Education Minister Ramesh Pokhriyal Nishank were present on the occasion. This is the first time PM Modi is participating in a programme of the Aligarh Muslim University.
"I see the campus buildings all lit up in celebrations. But these are not mere buildings, but the place from where innumerable alumni have contributed immensely in taking the nation forward.
Wherever they may be, the alumni of this prestigious institution has always made India proud," he said adding that it's not just the alumni and the students, but the contribution of each and every teacher over the last 100 years, since the start of AMU.
"At this prestigious university, if a student can imbibe education in Urdu, so can they in Hindi, On one side one can get knowledge about Arabic while the other can about Sanskrit. One on side you can learn the teachings of the Quran, while on the other, AMU teaches the teachings of the Gita and other scriptures too. This is what India is all about, and this institution functions every day on that principle. Sir Syed Ahmed Khan said that when you receive education and come into the work sphere, you must work towards all, without any discrimination, without seeing caste or creed or religion. That is a thought that we must always carry with us," he said adding the Centre is working everyday for the benefit of all its citizens. "The central schemes - be it healthcare or gas and electricity connections, etc - they all benefit everyone," he said.
He said the dropout rate in school among Muslim girls has gone down from 70% to currently around 30% adding the government is working towards minimising this further. "The government is focused on education and empowerment of our Muslim daughters. Women's empowerment is fundamental towards taking any nation forward. A good education leads to financial empowerment, and financial empowerment leads to a woman making independent decisions. And that is key towards then taking both their families and the nation forward. I would love to hear from you all at Aligarh Muslim University on how to make India self-reliant and how to work on successfully taking 'local to global'. Your ideas and suggestions are always welcome and are greatly valued," he said.
Earlier, AMU Vice Chancellor Tariq Mansoor said the AMU community is thankful to PM Modi for accepting the invitation to participate in the celebrations marking 100 years of the university.