Uttar Pradesh ATS arrests two Muslim clerics under the new anti-conversion law
Updated: Jun 22, 2021 - 11:47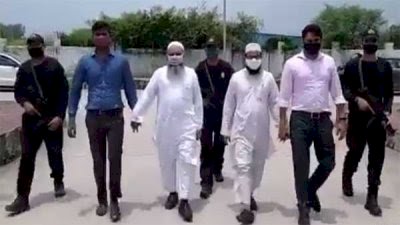 Under the state's draconian anti-conversion law, the Uttar Pradesh Police's Anti-Terrorism Squad (ATS) has arrested Muslim clerics Mufti Qazi Jahangir Qasmi and Mohammad Umar Gautam from Jamia Nagar on Monday.
According to the FIR, lodged with Gomtinagar police station under the state's new anti-conversion law, the Muslim clerics were involved in the conversion of deaf children and women to Islam and more than 1,000 people had been converted so far.
Both were arrested after interrogation. We have got important evidence, documents of foreign funding," Uttar Pradesh ADG (Law and order) Prashant Kumar said at a press conference.
The deaf and dumb son of a couple living in Kalyanpur, Kanpur, was converted and sent to South India. Thousands of such cases have come to light. The people were promised money and jobs in lieu of conversion," Kumar added.
Mohammad Umar Gautam, son of Shyam Pratap Singh Gautam, hails from a Rajput family of Fatehpur in UP, and has converted to Islam 35 years ago. He has been living in Batla House for over three decades, and Mufti Qazi Jahangir resides in Jogabai area, Jamia Nagar.
Hundreds of Muslims have been arrested under the anti-conversion law. Several of them have been accused of 'love jihad', a conspiracy that allege Muslim youths are on a jihadist mission to convert Hindu women by marrying them.
Scores of human rights groups and civil society organisations, both home and abroad have raised strong concerns against the enactment of the Prohibition of Unlawful Conversion of Religion Ordinance 2020, by the Uttar Pradesh government.