Lucknow's biggest eidgah becomes first religious site in state to turn as vaccination centre
Updated: May 21, 2021 - 22:42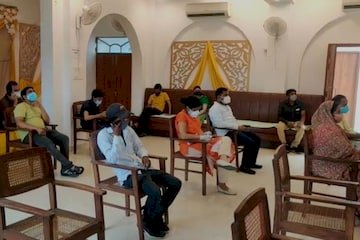 Aishbag eidgah in Lucknow is all set to be the first religious site in the state to be turned into a Covid vaccination centre. The government has arranged all facilities to vaccinate all categories of people.
The eidgah's initiative is widely praised and the Covid in charge for the district Roshan Jacob hopefully remarks that this would encourage a large number of people to get vaccinated and it will be easier for them to access vaccination.
Meanwhile, Imam Idgah, Lucknow and Chairman of Islamic Center of India, Maulana Khalid Rashid Farangi Mahli, urged people to keep in mind that along with precaution for prevention of epidemics, the best and most effective thing is vaccination.
"Moreover the huge space available at eidgah helps in maintaining social distancing", added the Imam.
The centre, like all other vaccination sites, will accept only those with prior online registrations. The organisers have however stationed volunteers at the help desk to aid people with online registration.