Meet UP's woman social worker venturing into holding last rites of Covid-19 victims
Updated: Jun 2, 2021 - 23:21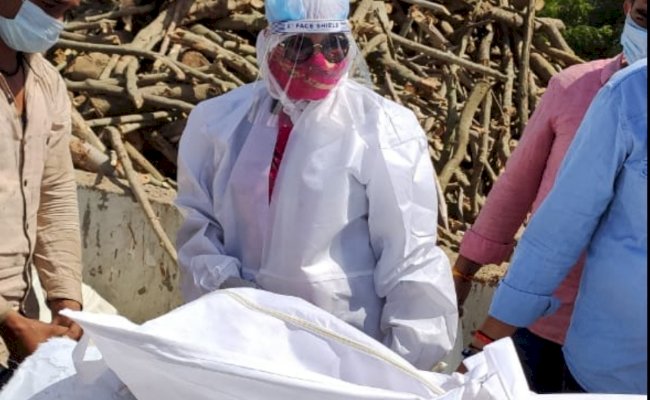 Performing last rites is always considered to "belong" to males. But, Covid-19 pandemic is bringing in new normal and a woman from Lucknow has ventured into the crematoriums and burial grounds.
Azra Mobeen is a 35-year-old social worker with two kids, an eleven-year-old girl and a nine-year-old boy and she is now active in helping families of Covid-19 victims.
Azra had sent her kids to their grandmother's house, since she took up the funeral service. "I can't risk the life of my children. No matter what precautions you take, it's still life-threatening. When I come back home, I take off the PPE kit, sanitise the home and take a bath. It's an everyday task".
Upon being asked if she works with any NGO or humanitarian organisation she politely declines and humbly tells you that she's a self-acclaimed social worker. Azra started helping people last year when the Covid-19 disaster started.
"The situation wasn't this much grim during the first wave. Now, it's a complete disaster. It's overwhelming and toxic", says Azra.
Pointing out the long list of government failures and hidden covid death numbers, Azra adds, "on the ground, the situation is worse. In Lucknow, each family is losing a dear one or a near one. Hospitals are full, medicine scanty, doctors and resources stretched beyond breaking point. In short, the healthcare system has collapsed and crematoriums are overflowing with dead bodies''.
When crematoriums and burial grounds overflowed, Azra began working for the welfare of the dead. Those who succumbed to Covid-19 and later disowned by families either out of the fear of virus infection or simply because they were helpless, hopefully, have got kind souls like Azra to take care of.
Some have called her in desperation telling her how none from the family is coming to help due to fear of Covid, so she steps in and assists people in cremating their loved ones.
Azra works in the Bhainsa Kund crematorium Lucknow. Making calls, visiting hospitals and assisting people in the cremation rituals, she stands right there wearing a PPE kit in the blistering heat of burning bodies.
Tracing her journey of covid relief works, Azra says, "During the first lockdown, I distributed food and water to the migrating workers walking thousands of kilometres to their homes".This time she posted on Facebook asking people if they need any kind of help regarding covid relief and can anytime contact her.
"I will do the best I can do. And if people of any religion are facing problems in cremation or burial of the dead they can contact me. I started offering such services on 19th April. And from then the calls have been flooding", says Azra.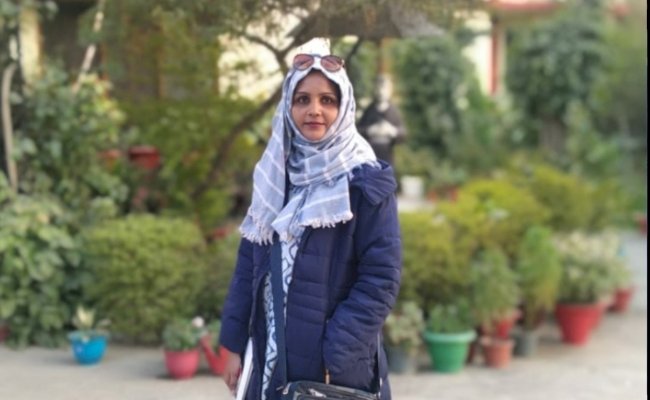 Azra Mobeen's Facebook post on 19th April narrates you the story of a family that will shake you to the core. Azra's service demands a lot of follow-up calls and almost an all-time availability. One story would give you a glimpse of how much grief she comes across on a daily basis.
One day at around iftar, Azra receives a call that a family needs help. She later makes the call but no one answers. "I regretted not making the call right away. But I kept trying and finally, a boy answered the call, he was crying badly".
Aman Srivastav has lost his mother to Covid. His father too was infected and was in a critical stage wanting hospital admission. Azra assured she would help him in every manner possible, but he kept crying like a baby.
Subsequently in the conversation, Azra learnt that the boy is 21 year old and has got a younger sister, a 19-year-old.
"From the way he was talking I felt he was infected. Because while talking, he had issues with breathing", Azra says. The boy was not infected but all the crying and wailing made him sound so miserable. Azra also learnt that the boy and his sister had not eaten anything for the past two days.
"He was lonely and missed his mother badly. He worried how they would have none to feed them", Azra recollected.
Azra asked him to first eat something, feed his sister and assured him she will be on the line. Afterwards while ending the call she told him that he can call her any time of the night and she will be there right away. His mother's cremation was to be done the next day, so she asked him to call her.
Azra got busy with the cremation formalities of another family and the burial formalities of some other family and didn't receive any calls from the boy. She thought that some family member of the boy must have helped. She was very disturbed and busy for 4-5 days with other cases but afterwards finally made a call on the 6th day.
"I kept calling but no one received the calls, I made a final attempt and the call was received. Aman's younger sister was on the line. She wasn't talking properly but told me that how the very next day of her mother's death, her father passed away and the very next day her brother died in a road accident and the next day her Grandmother passed away due to shock", Azra said.
Her brother Aman was on his way to Kanpur to dispose of the ashes of his father. He met with an accident and died on the spot. Azra learnt that the only surviving family member, the girl has got is her eldest brother, who is in hospital due to a severe liver infection.
The girl was living at her cousin's home, and Azra wanted to be sure if she's safe. Azra rang up the cousin and learnt that he has brought his cousin sister home as she was all alone and that he his worried of breaking the unfortunate news to her eldest brother who is unaware of the demise of his parent's, younger brother and his grandmother.
When asked if she is scared, Azra replied yes and tells how she makes sure that she takes all the precautions and just believes that God will keep her safe. She says that if her death is written in her destiny while helping all these people, then be it.
Azra was criticised by some members of her community for her assistance in crematoriums but she believes that helping anyone, be it from any religion will never be looked down by God. She stands firm with her belief that helping the needy in every way possible from any community is a humanitarian cause.
Saher Hiba Khan is a student of English literature at Jamia Millia Islamia and she hails from Rampur, Uttar Pradesh.