Blamed then, praised now: Tablighi Jamaat in Tirupathi conducts 500 plus funerals
Updated: May 11, 2021 - 23:10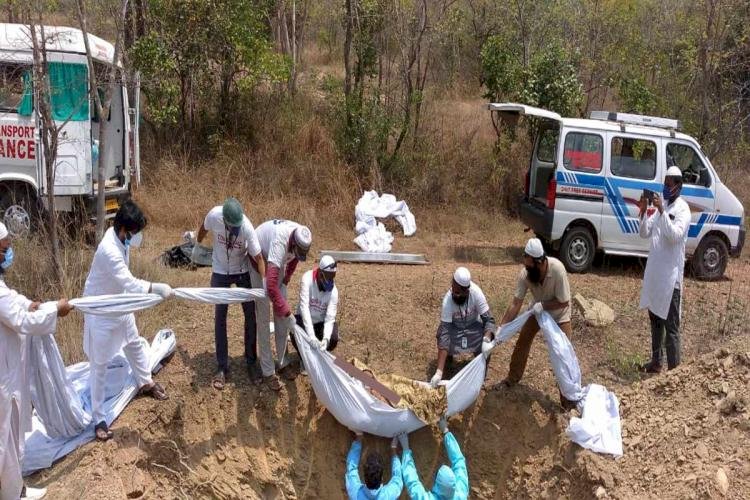 Last year they were blamed for the pandemic, and this time the Tablighi Jamaat in Andhra Pradesh are praised for their Covid relief works.
The Covid Joint Action Committee formed in 2020 under Tirupathi United Muslim Association and Tablighi Jamaat members, is relentlessly working for helping Covid patients.
As the number of Covid death is increasing and access to treatment is decreasing, families are having a tough time getting the last rites done for their deceased ones. Apart from these, the committee also looks after the last rites of the poor and the abandoned.
The committee has got 60 volunteers to step into such scenarios and help the families in offering the last rites according to the deceased's religion. Flower garlands and robes are offered for the Hindu, coffin and Church Father brought for the prayers for the Christian and Janaze ( final prayer) prayed by the volunteers itself for the Muslim.
Since last month, the volunteers have been conducting a minimum of 15 funerals daily. The volunteers are majorly auto drivers, ambulance drivers and daily wage labourers. Amongst them are also six non-Muslims who got inspired by their works and joined the committee.
The Personal Protection Equipment (PPE) are bought from the Tablighi Jamaat funds and the committee has got support from the police and local governments. Tirupati MLA, Bhuma Karunakar Reddy, who has been twice infected with coronavirus and recovered, has also joined the committee. A total of 534 Covid funerals have been conducted by the committee, of which 184 were in the first wave and 350 in the second wave.
Amongst the volunteers are three Tablighi members who attended the Delhi conference last year. They were received with hatred, however, this year hopefully, people have realised the necessity of cooperation and compassion, says one volunteer.