In the name of Rohith: How an education centre is changing the lives of Ambedkarite children in a Mumbai locality
Updated: Aug 19, 2020 - 01:44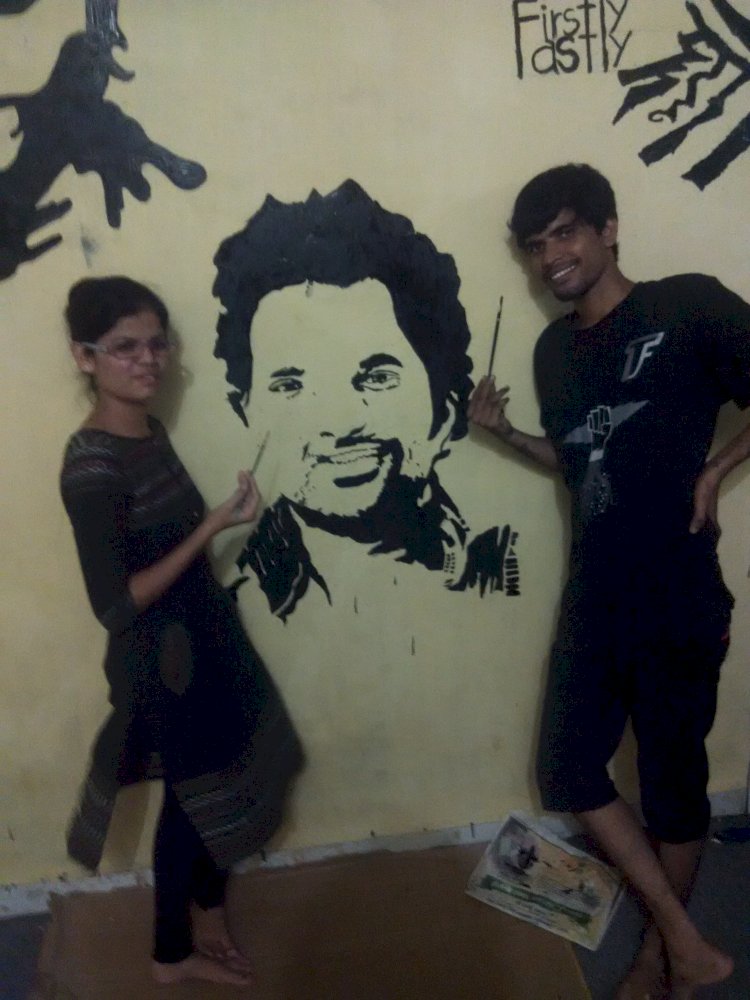 By Daisy K, The Site
In the by-lanes of Phule Nagar, next to the IIT Bombay, a student-run educational centre is sowing seeds of change. The Dr Rohith Vemula Education Centre, located in a nondescript building, is decorated with a large mural of Rohit Vemula, while pictures of Buddha, Babasaheb Ambedkar, Savitribai and Jyotiba Phule don the centre's walls. A new desktop and a small library complete the centre.
The centre was set up in February 2016, a month after Rohith Vemula's suicide, with some monetary help from local social workers. Since 2018, the centre is being independently run and managed completely by its team of 15 student volunteers from Phule Nagar. A largely Dalit- Bahujan locality, the children living in Phule Nagar have little chance of higher education with many children dropping out to help out their families. The centre is trying to turn the tide through dedicated, hard-working people.
Prafull Sawant, 25, is a Commerce postgraduate and a Civil Service aspirant. He is also one of the coordinators at the centre. "Most of the students from our centre are first-generation learners, so they have a high chance of failure since there is no one to guide them. They end up settling for some small-time jobs. The children here do not have dreams of personal or social growth so this was the main idea behind starting the centre. Now, many of our students want to be doctors or go for civil services," he says.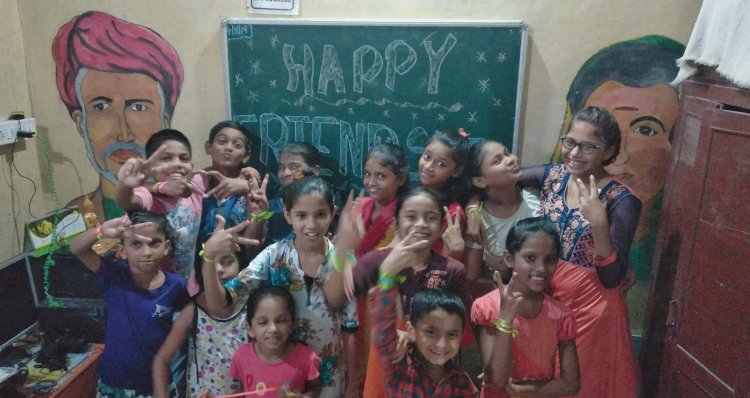 Although many students from Phule Nagar started attending the centre, raising funds for a student-run centre was no easy task. The funds to run the centre were borne by the volunteers who were working. Monthly contributions of Rs 1,000 was made by 3-4 volunteers, while student volunteers contributed Rs 200-500 despite their financial issues. Some students also contributed from Rs 200-500. The centre, which was started in one room with just a blackboard, today boasts of a library, Wi-Fi, computers and chairs and tables for studying.
Sessions like reading newspapers, read-aloud sessions plus writing sessions help the students gain confidence in spoken English. Not only does the centre provide a place to study, but it has also developed into space for regular vibrant and open discussions. Prafull says, "We encourage them to talk and articulate their ideas, either in person or in public, but we don't want to leave any of their questions unanswered." The centre not only focuses on guidance counselling and studies but also arranges movie, documentary screenings art and craft sessions for kids
Born and brought up in Phule Nagar, Siddharth Shirsat, 30, is also part of the Dr Rohit Vemula Education Centre. Shirsat has witnessed the difficulty in attaining higher education first hand. After attending night school while working during the day to provide for his family, today he is an Economics graduate who dedicates his time to the centre.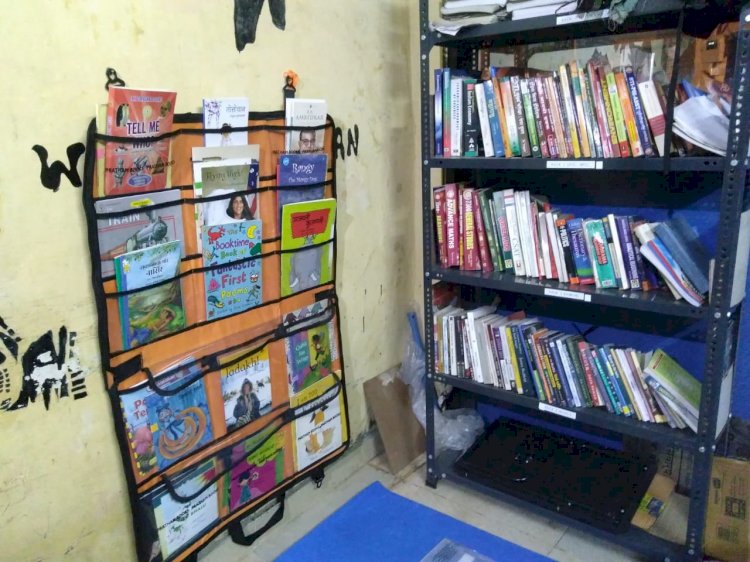 Shirsat says, "Generally, kids here study till Class 10 or maximum till Class 12. But most students drop out before graduation. Most of the children come from families of daily wage workers. Many times there is a lack of awareness courses and the family income is also low. Initially, when the centre began, we relied on our expertise of subjects to guide the students. A few of us graduates in the area got together and started guiding about the courses. We also started collecting more information about the courses. There were also cases where the student wanted to join a particular course, in which case we would also counsel the parents of the students."
The centre has also taken up sessions regarding sexuality and menstruation for the girl students. Prafull says, "We realised that there is a lot of awkwardness among the students to discuss such issues, many times such things also led to dropping out of schools, so to make the girls aware we arranged sessions plus we also share important videos about menstrual health."
In 2019, the centre also started a full-fledged library providing books for younger children as well as students, especially those required for competitive exams and civil services. The centre makes it a point to involve the children and students in managing tasks like cleaning, upkeep, counselling, yoga. Most of the students who join in as volunteers with the centre college students from Phule Nagar itself and know of the hardships students form the locality face.
Pooja Lahane, 20, joined as a volunteer in 2017 and teaches art and crafts to the kids. She says, "Creativity is also important along with studies, that's why we thought we should start craft and drawing sessions. For now, we have made crayons, paints and paper available to the children so they can remain creatively engaged."
About her experience with the Centre, she says, " I had only heard that there is a college called JJ and you could study art there but I did not know anything. It was through the centre that I could connect with people who then guided me about how I can prepare for entrance exams for Art Institutes." Pooja is currently enrolled at the Art Teacher Diploma from JJ School of Art, Mumbai.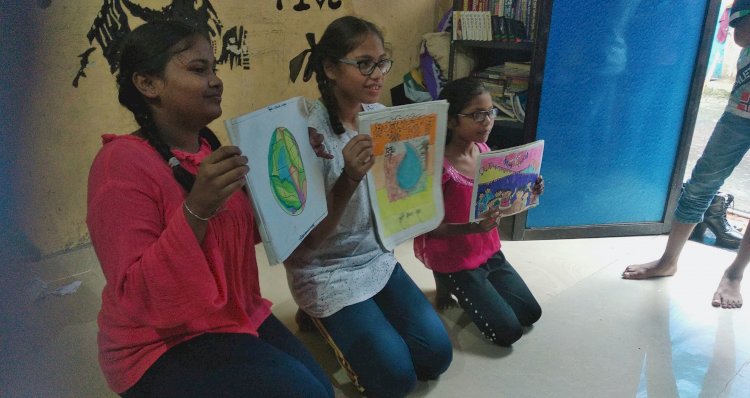 Education in times of Corona
As the Corona pandemic raged in Mumbai, places like Phule Nagar saw extremely high rates of cases. But the centre continued to help students. Members of the centre conducted a survey to assess how the children are carrying out studies, especially since online teaching was announced in Maharashtra. Prafull says, "Many families just have one phone so what will happen if there are more kids? The teachers would just give assignments and ask the children to take photos, so there was no interaction or learning. So we started guiding them over the phone, either via video or WhatsApp. Many of the children wanted to read books during the lockdown, so we let them take as many books."
Now that the lockdown has been lifted the Centre is again going back to regular activities while following all protocols like masks, sanitisers, maintaining social distancing rules. But with the schools and colleges remaining shut, the Centre has begun providing access to free online courses like tally, courses of hardware, personality development etc.
The centre also conducts monthly PTA meetings to update parents about the activities about the students. In future, the Centre plans to expand to have a full-fledged classroom and a library. Siddharth says "Most of the houses here are just 10x10 feet so we cannot study in our own homes. Earlier, we didn't even have a place to call our own…there was no place to counsel or guide, now we are very thankful that we this space which we can call our own we can sit we can study."
Prafull adds about his experience regarding running the centre, " We don't want the children just to graduate and start working. We want them to aim higher, we want them to go for MPhil or PhD, we want them to diversify...Education gives you a different image of yourself, it gives you independence. You can see the world and surroundings in a different light. It also gives you the ability to criticize but also helps you to be positive...we want the children to inculcate this learning habit for a lifetime."