How Muslim graveyards became the last resting place for some Hindus in the times of CoVID
Updated: Aug 19, 2020 - 01:44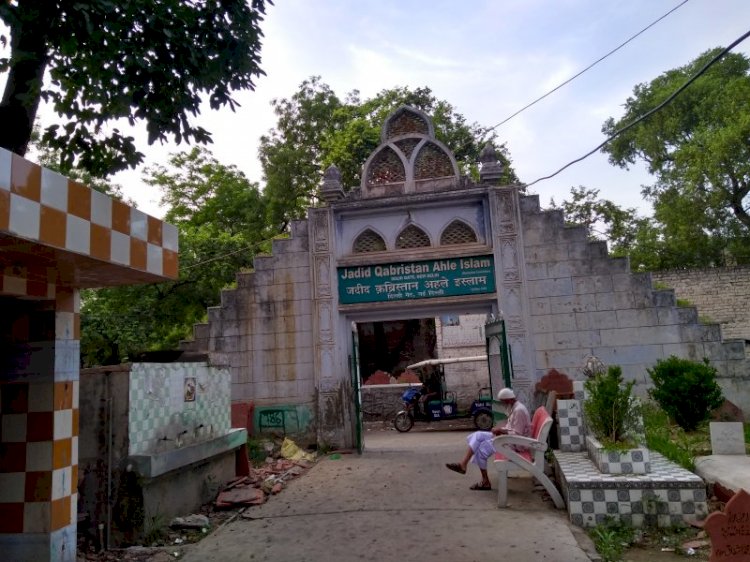 By Mohammed Anas, The Site
Buried in the gloom of rising Covid-19 deaths in Delhi is a communally soothing story, albeit one with a sad ending. A visit to the graveyards in the capital reveals that many Hindus, who passed away after losing their fight against CoVID, lie buried in these cemeteries. These burials, though done in emergencies, have come only a couple of months after deadly communal riots in the northern parts of the city.
However, it is a sign of the current times that these bodies, and the issue, remain covered mostly in secrecy.
Rashid Ahmed and Shameem Ahmed, the caretakers at JadidQabristanAhl-e-Islam, ITO, say that more than 500 corona patients have been buried in the 3-acre cemetery. They don't admit that any of the buried bodies were of non-Muslims. But, on probing them further, they confess that one woman was buried as the religious identity of her was not checked. "Who cares for these details when a mayyat (funeral pyre) arrives here?" asked Rashid Ahmed.
Upon further inspection, we located her grave at the periphery of the main graveyard. The gravestone at the grave reads "Shabista", a Muslim name. A tulsi plant (holy basil) is protruding from the middle of the grave.
Her name was Savita. She came from nearby Lok Nayak Jai Prakash hospital some days back. The Tulsi plant is for her nishandehi (identification)," said a gravedigger at the graveyard.
He didn't say more except that Muslims usually plant beri (Jujuba or Chinese date) at the graves of their dead ones. The Tulsi plant, of course, designates a Hindu.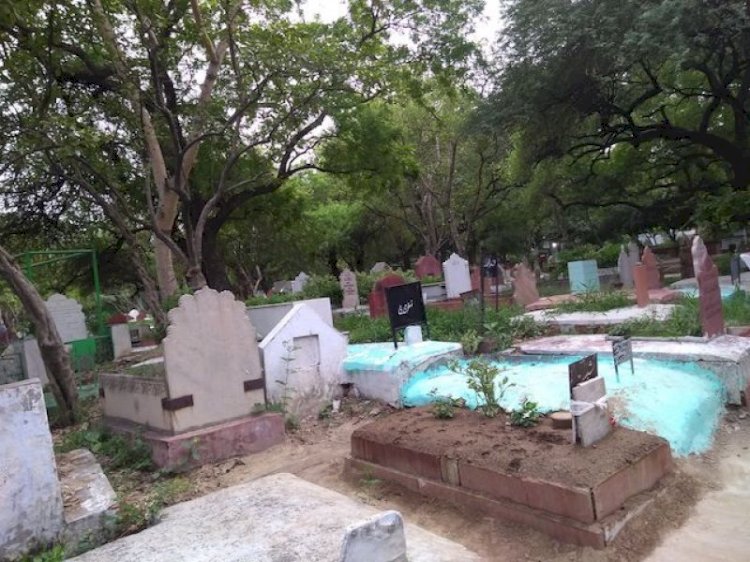 But Tariq Azeem, a regular visitor to the graveyard, told this correspondent that the fear of any untoward eventuality has kept the burial of Hindus at the graveyard a well-kept secret. "Savita has been written as Shabista because the family insisted to keep her last resting place recognizable. Otherwise, some of the other graves of Hindus, who have been buried at the periphery, remain simple. Possibly, they will soon flatten and new graves will be dug up at their place," said Azeem.
But why have these burials been kept secret? "Some people know about it. It's being concealed as both the Delhi government and the graveyard management committee do not want knowledge of these burials to create any unwanted problem. Hindus are not buried in Muslim graveyards and this may disturb hardliners on both sides. In case the news spreads out and anger some extremist outfits, it may lead to communal tension. Perhaps, that's why it's being kept secret," he explained.
Farrukh Hussain, a writer of international acclaim, testified to Muslim reservation regarding the burial of non-Muslims in graveyards. "In a Muslim graveyard, there should only be Muslims. That is the whole purpose of having a QabristanAhl-e-Islam. It is the question of Shariat (Islamic canonical law)," said Hussain.
Hussain's concerns were echoed by many Muslims who gathered for evening prayers at the graveyard mosque. "As the name of the graveyard suggests it is the place for the last rites of those who follow Islam. As you are aware, areas of graveyards are contracting in Delhi. Many graveyards have disappeared altogether. In such a scenario, how can we allow non-Muslims to be buried here?" said Imran Shamsi, who, when he was talking to this correspondent, was surrounded by almost 50 others. Many of them were aware of the Hindu burials at the graveyard and the majority of them were not in their favour. However, neither this crowd nor any other Muslims in days after such burials have vehemently protested on the issue, let alone creating a ruckus.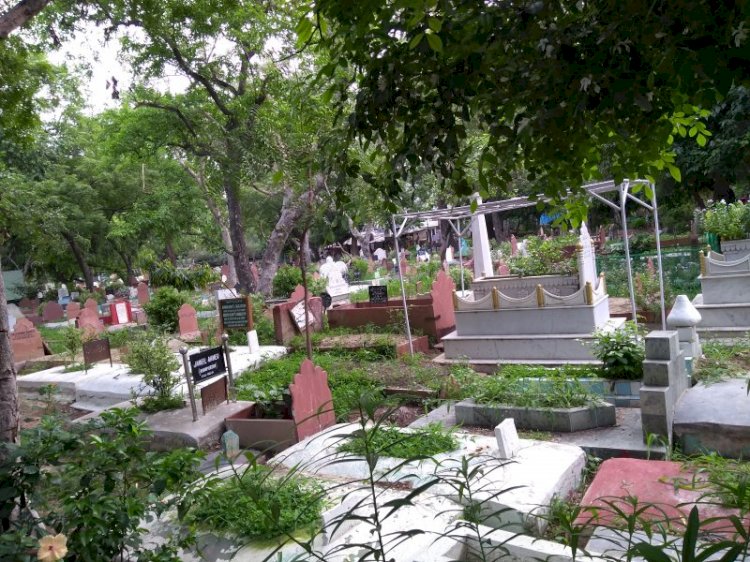 Muslim clerics interviewed by this correspondent interestingly either declined to opine on the issue or said that the Shariat were unclear about it and that it is best left to the people of the graveyard management committee to decide on this. "Shariat doesn't bar non-Muslims cremation in the graveyards. However, the decision entirely rests with the management of the graveyard. Such burials are bound to face objections from ordinary Muslims as they strictly believe graveyards to be the somewhat sacred and exclusive domain of Muslims," said Maulana Ismail Falahi, who has been associated with the Jamaat-e-Islami Hind and is now based in Aligarh.
Members of the Hindu outfits, when checked, were aware of Hindu burials at Muslim graveyards and they also found it "unfortunate", but they categorically refused to protest or publicly object it. "We are not in favour of such burials. A Hindu must be cremated vidhivat (as per Hindu rituals). But, these are unusual circumstances. There is widespread fear of the outbreak of the decease. Relatives of the patients want their dead ones cremated as soon as possible. Hence, some people must have chosen to bury their patients in the graveyards or their vicinity. Besides, we have heard of people burying their dead ones in secluded places throughout the city. It could be because electric crematoriums are too few and have been full recently. People have been waiting in queue to bury bodies of their dear ones. In this scorching heat, it is not possible to keep dead body preserved for long," said Surendra Jain, a member of Vishawa Hindu Parishad, Delhi chapter.
Apart from burials at Delhi Gate graveyard, which is a declared Covid-19 burial ground, this correspondent was told of Hindu and Christian burials at Kashmiri Gate graveyard too.
Aam Aadmi Party-led Delhi government, which has constituted Corona Vigilance Committees to oversee the corona situation, is unaware of Hindus being buried in Muslim graveyards, but its members insist that the issue should not be treated as rare and unusual. "We are not aware of any such burials. But, if there have been such burials, they must generate a sense of communal harmony in a city where communal flares raged very recently. In this critical time, when people are helping each other free of any identity, such burials must bury ill-feelings between two communities," said a member of the committee.
He added, however, that the Delhi government is neither involved nor intends to have such cremations. "People must do it purely based on humanity and they must do it themselves," he said.