This Kerala teenager is solving problems of farmers, one machine at a time
Updated: Mar 23, 2021 - 21:54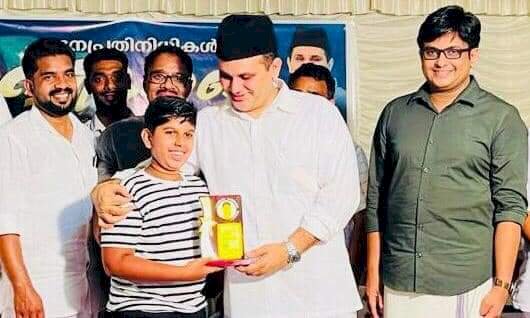 Aseem being felicitated by Youth League state president Sayyid Munavvar Ali Shihab Thangal
What were you doing at the age of 13? Worrying about your upcoming exams? Thinking about your father's reaction if you scored low? Or planning how to change the world? Some of us dream, others wake up and turn it into a reality. Muhammed Aseem is the latter. Aseem, an eighth standard student, recently received the central government's Inspire award and Young Scientist India Award from the Space Kids India (SKI) for his useful innovations in handling water pollution and aiding farmers in protecting crops.
Aseem says that science has always been his subject of interest. On being asked about when it all started, he recollects playing with mini-motors from cars and other toys; doing little science experiments. He said, "I designed an LED bulb that would work according to the beats of songs in my second standard."
The youngest son of Bushra and Muhammed Kundungara, who is the President of Muslim league in Koduvally town 28th division, Aseem has been receiving many congratulatory awards from his neighbourhood.
Aseem won this year's Inspire Manak award issued by the central government's Department of Science and technology along with a cash prize of Rs 10,000 for designing an automatic water waste collector. It is a robot that can collect waste from water. "The machine would get into spaces that are difficult for humans to get into and clean," he explains.
Recently, he also bagged the 2020-2021 SKI's annual Young Scientist India award for his new invention. "It is a bug killer," he said, "but not the one, which kills the crop-friendly bugs". He said that he has made a bug sensor that would differentiate the good ones from the rest.
His 'Automatic flying bug killer', was a result of his research into his local community's issues. He said, in the competition, he was asked to look into the troubles faced by people in his locality and base his invention as a means to resolve it. That's when he says he came across the issue of harmful bugs in fields.
"I found that there were difficulties in agriculture and wanted to design a machine that would help farmers protect their crop. I collected several information and data on the topic", said Aseem.
Aseem said that he receives his guidance from the Rotech Institution in Calicut for his scientific endeavours. He said it was his senior friend in school who introduced the institute. As a student of Robotics, he is quite happy that the place he is in leads to more and more innovative explorations. And he aspires to pursue Robotics or Software Engineering in his future.
At present, he is a student at Koduvally govt higher secondary school, and for two years he has been a part of Atal Tinkering Laboratories. "In 6th standard, I joined Atal lab in school. Many of my classmates too joined", he said. Atal lab is a workspace under NITI Aayog in collaboration with India STEM Foundation, for fostering scientific temperament and innovation skills in school students.
He said he derives his inspiration from reading autobiographies. On asked about what's his favourite so far, he said it's the one on Steve Jobs.
A frequent participant in science fairs and competitions, Aseem is currently working on a machine that would efficiently clean floors.