From thoughts of dropping studies after school to becoming a professor at IIM
Updated: Apr 11, 2021 - 13:52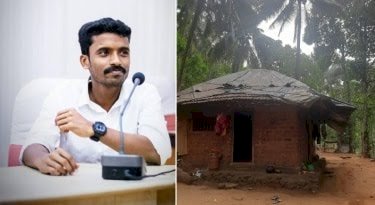 After completing school with good marks, Ranjith was doubtful whether to continue studies. A doubt that shadowed him throughout his student life. Yet he made it into IIT Madras and went on to become a professor at IIM Ranchi.
Ranjith R Panathur's journey started from a hut in Panathur, a remote village in Kasaragod. And along with several hardships, he had a few who wished him well.
He posted in Facebook a picture of his hut and wrote, "This is the house I was born and where I am still staying. And now, an IIM Assistant Professor has been born here."
Ranjith's parents had little chance at education and they made sure their children would complete school education.
It was after completing school education that Ranjith took up a job as a security guard at Panathur Telephone Exchange. He earned at night and studied during the day. Relieved of expenses he completed B.A Economics from St Pius X College and went on to complete M.A Economics from University of Kerala.
He got into IIT Madras for his research and the scholarship was a financial support to both him and his family. However, the elite, English speaking IIT Madras made him feel less welcomed. Unable to fit in, he wanted to drop out. It was his guide Dr Subash and his wife Dr Vaidehi that gave him the strength to endure and to cope up with the atmosphere.
He persisted and completed his PhD in 2020 and was working as an assistant professor at Christ University in Bangalore when he received the appointment letter from IIM Ranchi.
The 28-year-old shared his story on Facebook which soon went viral. And wishes to be a source of encouragement to not quit one's dreams even if surroundings are hard. Many has lauded his achievement and determination.