Shaheen Foundation: Promoting Hindu-Muslim unity through educational empowerment
Updated: Oct 24, 2020 - 19:38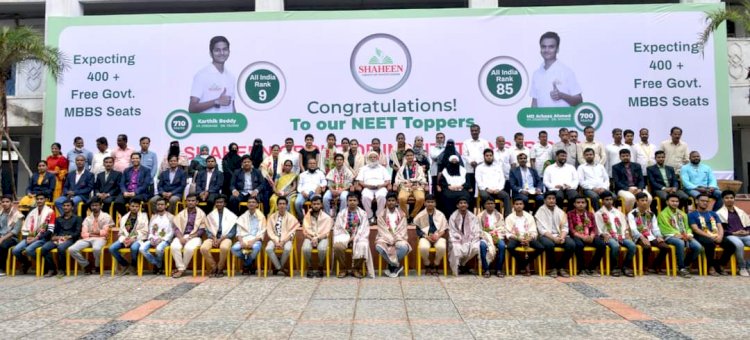 By Mohamed Shafeeq
Editor's note: Muslims in India are often blamed for their plight in the country, and one of the favourite points of the detractors is the lack of education among the community. However, this is nothing more than a lazy narrative set by those in power and a blatant attempt to excuse the governments (both state and central) of their lack of effort in addressing this issue. The truth is, we now have several organisations promoted by Muslims to improve education among the community. This has not only paved the way for a brighter future for the community's youth, but also a wonderful present. Take the UPSC results. According to a News18 report, "Muslim candidates have been doing well in the prestigious exams since 2016. Prior to that, they constituted only 2.5% of the total successful candidates. However, Muslim candidates broke all previous records in 2016 when 50 of them qualified for the UPSC, with 10 making it to the top 100. In the 2017 batch, too, 50 Muslims were selected through the exam."
The credit for this, no doubt, also goes to organisations like the Zakat Foundation of India, along with minority institutes like the Maulana Azad National Urdu University (MANUU) and the Aligarh Muslim University (AMU) have played a starring role in increasing the numbers of Muslims qualifying in top-level competitive exams. Never mind the detractors who are now inventing a new "UPSC Jihad" narrative, we are now witnessing something special here. The good news that originated from UPSC has continued with the NEET too, with hundreds of students from Muslim community qualifying for the exams. In this special series, we look at shining examples from Assam, West Bengal and Karnataka, where philanthropic organisations have helped nurture a new, bright dream for Muslim students. In part two, the heart-warming story of Shaheen Foundation, which helped both Muslim and Hindu students qualify for the NEET.

Earlier this year, Shaheen Foundation Group of Institutions at Bidar in Karnataka was in the limelight after it was targeted in the name of an anti-CAA in-house performance. The school management along with a teacher, a parent and a student were booked under serious charges. But the unfortunate incidents and the unjust police action seems to have not impacted the foundation's spirit while it comes to its race towards achieving its goals in terms of educational empowerment. Shaheen Foundation is now in headlines after its students made the institution proud again by winning top ranks in the NEET 2020.

Karthik Reddy of Shaheen Pre University College emerged as the Karnataka topper securing the ninth All India Rank (AIR) while Mohamed Arbaz Ahmed grabbed the third state rank finishing on the 85th AIR. Karthik scored 710 marks while Ahmed won 700 out of 720.

"This year too, NEET has brought us cheers and we are happy to see that our students continue to make us proud," Dr Abdul Qadeer, founder chairman of Shaheen Foundation," told The Site. More than 400 students are expected to get medical college admission this year from Shaheen PU College.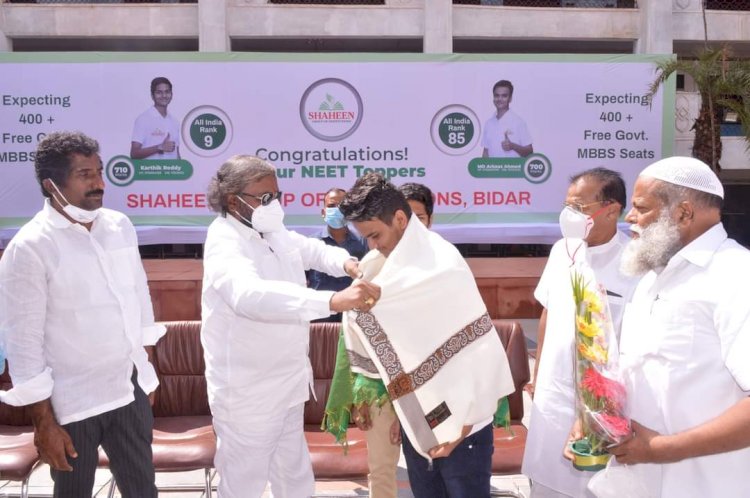 Abdul Qadeer, who strongly believes 'Hindu Muslim are the wings of Shaheen and that's what our India is', said that Shaheen shows the way by being the institution of all rather than attaching its self to certain sects. Hindu students, according to him, form 50 percent of the total students.
"Educational empowerment of the entire region is our goal and we are making worthwhile contributions to uphold communal harmony," he said. Dr. Abdul Qadeer was awarded the highest civilian award of Karnataka, Kannada Rajyotsava Award for his various services in the education sector. He added that the foundation gives free tuition and other educational support to its students. "Our students need not to take any kind of tuition or undergo any kind of training programme," he said.

According to figures with the foundation, 304 students from Shaheen got medical admission in 2018. The number went up to 327 in 2019 after the institution intensified its efforts.
"More than 1,200 students have got free medical admission in the last five years," said Thouseef Madikkeri, one of the institution officials, adding that the institution facilitates intensified and scientific training under the supervision of experts. "This helps them achieve the victory," he said.
Figures say that Since 2008, Shaheen has attained more than 4200 free government seats in medical, engineering and other professional courses.