AMU commemorates Maulana Abul Kalam Azad on National Education Day
Updated: Nov 15, 2020 - 13:48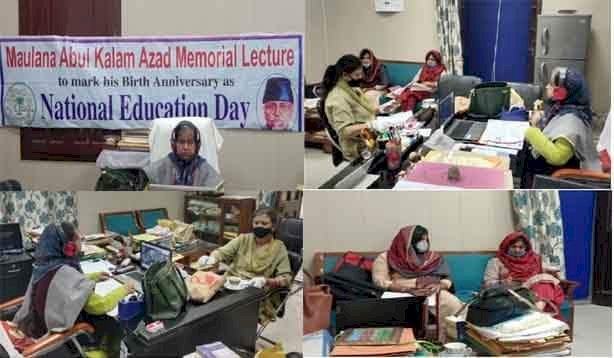 By Staff Reporter, The Site
The freedom fighter and visionary, Maulana Abul Kalam Azad was responsible not only for streamlining the education system in the country but he also established premier education institutions like UGC, IITs and IISCs. He always talked about technology, modern science, mother tongue and Indian languages," remarked Prof Shoeb Abdullah, Former Dean, IASE, Jamia Millia Islamia, New Delhi.
Delivering the online lecture on 'Relevance of Educational Philosophy of Maulana Abul Kalam Azad in the 21st Century' organised by the Department of Education, Aligarh Muslim University (AMU) to commemorate the National Education Day and the birth anniversary of Maulana Azad; Prof Shoeb emphasised that Maulana Azad believed in democratic, humane and balanced education.
"Maulana Azad advocated social education and production of educated masses. He laid equal stress on all streams of education from arts and craft to science and technology," he said.
Prof Shoeb pointed out that Azad's thoughts are reflected in the National Education Policy (NEP) 2020 as his view of education system is about acquiring and implementing knowledge in the best of ways.
"Azad made efforts to modernise the Madrasa system and stressed on the reach of education to all sections of society. He supported the three language formula and accepted English as the language of science and technology," said Prof Shoeb.
"The Maulana started schemes on adult education, women education and education for people with disabilities and scholarships for disadvantaged sections," he added.
Prof Nasrin (Chairperson, Department of Education) delivered the welcome address, while Dr Sajid Jamal introduced the guest speaker.
A book exhibition on Maulana Abdul Kalam Azad's personality and contributions was held at the Maulana Azad Library of AMU. The exhibition also displayed personal belongings of Maulana Azad.
Meanwhile, the Abdullah School organised online card making, slogan writing and essay competitions to commemorate the day.