India's youngest female pilot inspires Kashmiri women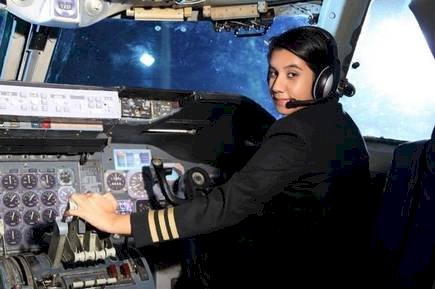 At the young age of 16, Ayesha Aziz acquired her flying license becoming the country's youngest pilot. Now 25 year old, she flies GoAir planes and is an inspiration for women in the Kashmir valley, to join professions otherwise dominated by men.
"I am half Kashmiri and trace my maternal roots to Kashmir. I clocked 200 hours [of flying] to procure a commercial [pilot's] licence. I was 22 when I got my commercial licence, "said Ayesha who's father is a businessman from Maharashtra.
Having none with an aviation background in the family, becoming a pilot was a challenge for Ms Aziz. Motivated by astronauts Sunita Williams and the late Kalpana Chawla, Ms Aziz was encouraged by her father to pursue her dreams
"My daughter used to do five-day schooling and weekend flying to achieve her goal. I feel proud that she became the country's youngest pilot at 16 when she already had 50 hours of flying to her credit," Ms Aziz's father Abul Aziz, who is engaged in the business of lignite extraction from Kashmir's Kupwara, told The Hindu.
Ms Aziz was given the First Ladies' Award by the President of India in 2018 and figured among the country's top 100 women achievers.
Kashmir has already produced two female pilots in the past. And Ayesha continues to be contacted by Kashmiri women seeking guidance to careers or at times how to handle online bullies, especially when women come up as achievers.