In 'Naya Kashmir' even women not spared from cruelty, Mufti says on woman SPO's arrest
Updated: Apr 17, 2021 - 20:37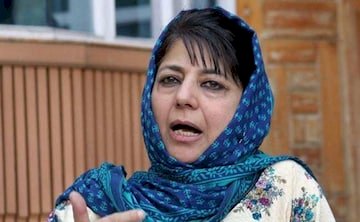 A day after woman Special Police Officer Saima Akhter's video objecting to frequent searches of her home by the army went viral, she was arrested and slapped with UAPA for allegedly glorifying terrorism. Reacting to the incident, former chief minister Mehbooba Mufti on Friday condemningly said, "even women aren't spared in Naya Kashmir".
" Saima Akhter from Kulgam has been slapped with UAPA for raising legitimate questions about searching her home repeatedly without any reasons. Saima's ailing mother understandably exacerbated her worries. When it comes to cruelty even women are not spared in Naya Kashmir," read her full tweet.
In the video, the woman can be heard shouting at the army for not sparing her family at even during the early hours of Ramzan.
" Why do you keep coming again and again. Go to the houses where militants are. You don't even let us have our sehri ( predawn meal during Ramzan), if you want to search our house, first remove your shoes". Adding that her mother is ill, she said, " if something happens to her, then you will see."
When the officers shout back at her, she said, " if the militants had been here, they would have burst fire into your heart."
Previously, the police had arrested the woman SPO and dismissed her from services, accusing her of "obstructing" a military operation in Pulwama district of south Kashmir.
Last Friday, after receiving specific input regarding the presence of (militants) in Karewa Mohallah of Village Frisal, a search operation was launched there. During the search, the search party was obstructed by a woman identified as Saima" a police spokesman said in a statement.
"The woman resisted the search party and turned violent, and uttered statements glorifying violent actions of (militants)," the spokesman said adding, "She captured a video through her personal phone and forwarded it on social media platforms with the aim of disrupting the search."