Haleema Beevi: A formidable figure in Kerala renaissance
Updated: Jan 4, 2021 - 14:33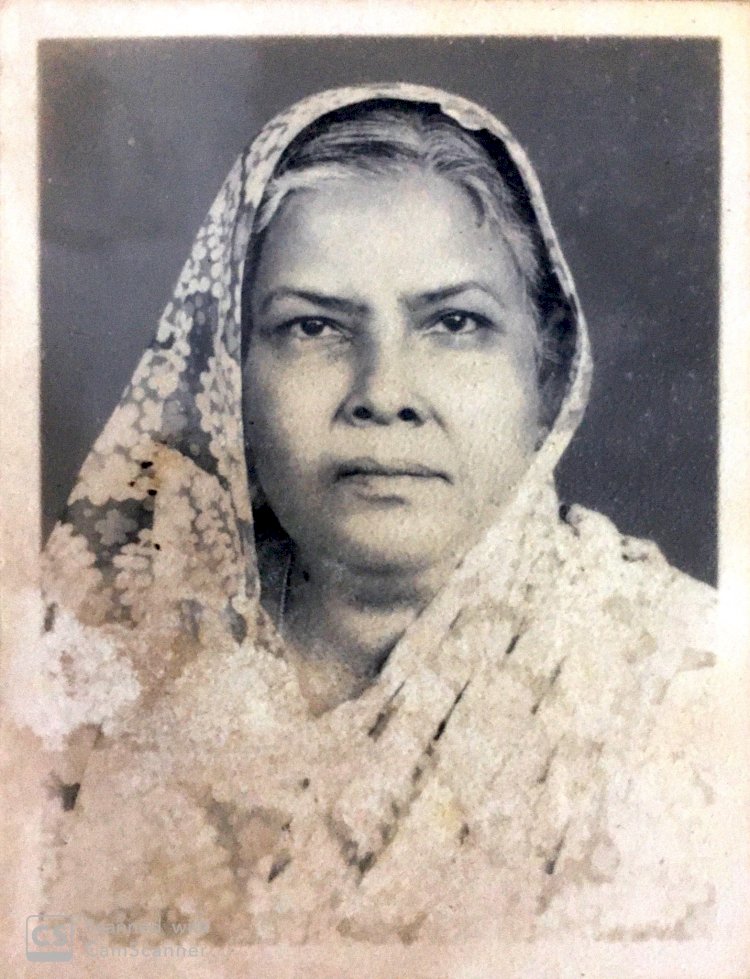 Haleema Beevi
Editor's note: Only rhetoric doesn't make women empowerment possible. It needs efforts and constructive interventions. Driven by this theory, Haleema Beevi took up efforts to recognise the multifaceted roles of Muslim woman. Probably the first Muslim woman in Kerala to have run newspaper and magazines, Haleema Beevi is one of the pioneers of Muslim social reform in Kerala.
Beevi left an indelible mark as a social reformer, politician, orator and organiser. Beevi chose writing and publishing as tools for social reformation. In this special two part series, we look at the life and legacy of Haleema Beevi based on her recently published biography 'Haleema Beevi- The Journalist'. Jointly authored by Noora and Noorjahan, the book is an exploration of the life and writings of this unsung heroine. In part one, a look at her life as a journalist and publisher.
"Somewhat in the early 19th century, on a bright and brisk day, thousands of people across gender and religion were seen gathered in a village called Adoor in Kerala. Their eyes and ears were drawn to a high-octane religious sermon delivered by a prominent Muslim cleric. What appeared innocuous preaching initially with stories from Islamic history segued to platitudes about how women should restrict themselves within four walls and refrain from obtaining education. The cleric went on twisting and misinterpreting the verses of Quran to substantiate his misogynistic views. All of a sudden, a girl stood up from the crowd and impugned the statements made by the cleric. Making his attempt to defend his stance more difficult, her friends joined her shooting questions after questions at him. While the crowd gave them an incredulous look, the girl openly challenged the cleric saying, "I will find someone qualified to preach the true essence of Islam and bring him here as soon as possible". She kept her word by organising a sermon by religious scholars such as K M Muhammad Moulavi, Aslam Moulavi and M Abdussalam I A S the next day itself," reads the book 'Life of Haleema Beevi-The Journalist'.
The fiery girl, Haleema Beevi, grew up to be a crusader against the oppression of women in Muslim community becoming the first Muslim woman journalist of Kerala.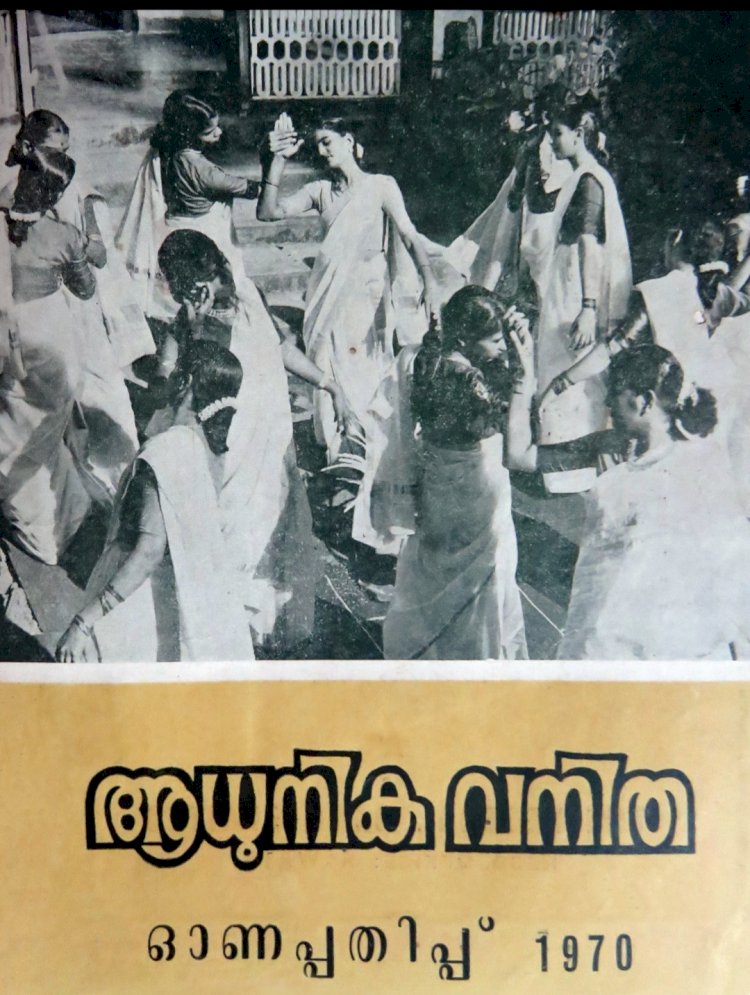 Beevi was born at Adoor in Kerala's Pathanamthitta in 1918, as the daughter of Peer Mohammed and Maideen Beevi. Her father died while she was a child. Maideen Beevi sent her daughters to school braving stiff opposition at a time when Muslims abstain from doing it. She arranged an escort for her daughters to avoid threats while going to school. Haleema Beevi completed 7th class. Although child marriages were widely existed, Maideen Beevi managed to stave off her daughter's marriage till she was 17.
She was married to K M Mohammed Moulavi, a disciple of reformer and freedom fighter Vakkam Abdul Khadar Moulavi. This came as a turning point. Beevi learnt journalism basics while working with Ansari magazine, run by her husband. She realised the importance of a magazine that can discuss Muslim women issues and strode across the path of journalism.
A glance at Beevi's journalism career
In 1938, Haleema Beevi started her journalist and publisher career by launching Muslim Vanitha where she had a multiple roles of managing editor and head of technical side including printing. Muslim Vanitha analysed women backwardness and called for reformation.
Beevi managed to withstand the threats from orthodox sections, financial crisis and non-cooperation from sales agents. Even though the magazine was shut down after a few years since its inception, it succeeded in creating an impact on the targeted audience. "I have witnessed the revolutionary changes Muslim Vanitha could evoke in Muslim women in Travancoor," Beevi once recollected.
Beevi didn't give up and came with a weekly, Bharata Chandrika,in 1944. Charndrika had diverse content including politics, literature and culture. Eminent Malayalam writers such as Vaikom Mohammed Basheer, Sukumar Azhikode, Thakazhi, G. Sankara Kurup, ONV Kurupp, Balamani Amma, and K. Gomathi had written in Chandrika.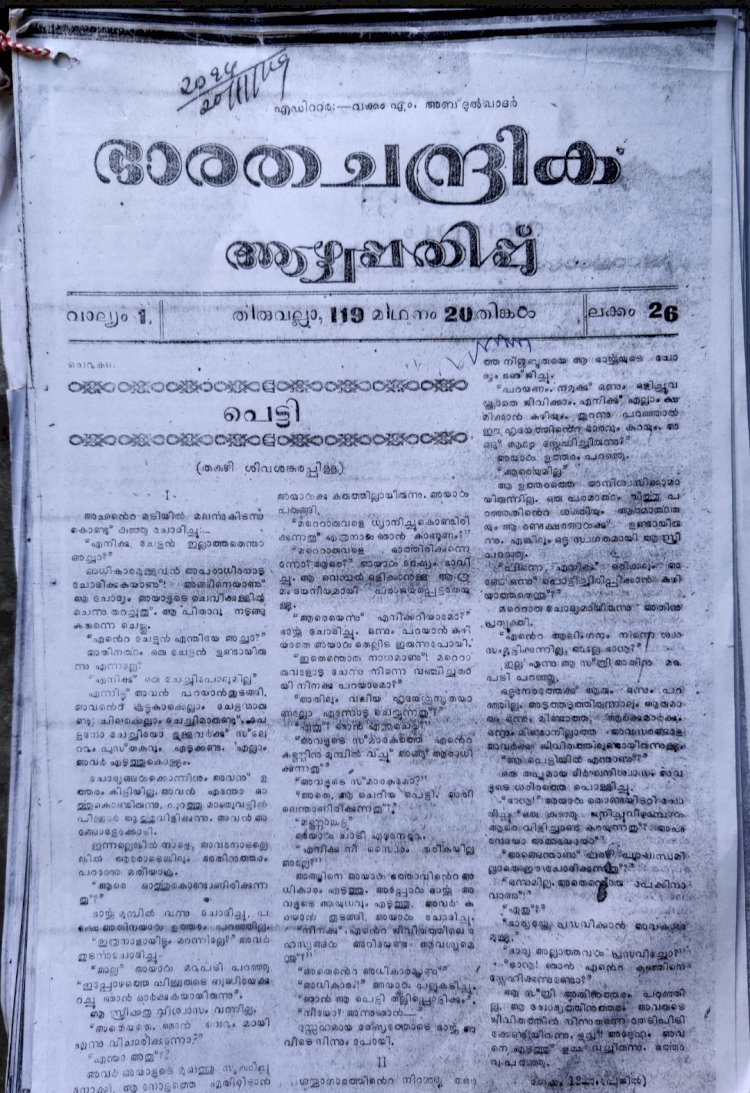 While keeping politics on focus, it had dedicated space to discuss the interests and stance of Muslim community on various issues. Beevi also published another monthly, Vanitha, which appeared to be the continuation of her first venture, Muslim Vanitha. She functioned as the managing editor of both publications. Vanitha's supplements for military broke the barriers of geographical boundaries and made waves abroad. One of the readers in Singapore later donated her money to start a press.
Funding was never easy. Beevi, her daughter Ansar Beegam recalls, walked long distances and knocked every door for donations.
In 1948, Bharata Chandrika was, however, converted into a newspaper due to dearth of Muslim community run newspapers. Heated debates on India's partition had appeared in Chandrika during the last days of freedom struggle. In addition to a clamp down by authorities, the newspaper was hamstrung by a financial crisis, leading to its shut down in 1952.
Beevi took a break from publishing till 1970 and continued writing in other magazines. In fact, during the whole career, her bylines appeared more in other magazines such as Al-Manar and Ansari.
In 1963, Beevi and her husband started a new printing press called Azad memorial press- named after Maulana Abdul Kalam Azad. They raised funds by selling off their house and other properties. In 1970, 52 year old Beevi came back publishing a new magazine, Adhunika Vanitha. Besides the veteran journalist, the editorial board of Adhunika Vanitha was mostly occupied by women. The focus was women issues while some sections were reserved for male writers.
Beevi alternated her journalism career with social work by forming a students' arm of the magazine called 'Vidarunna Mottukal' with the aim of creating a public platform for college students to bring out their talents. However, Adhunika Vanitha's functioning was also vitiated by the financial crisis leading to its closure after a year- the end of a legend in journalism and publishing. But Beevi's influence extended well beyond journalism. She left an indelible mark as a social reformer, politician, orator, and organiser. Beevi chose writing and publishing as tools for social reformation.
She chose to write in plain and lucid language with the aim of conveying ideas to the masses. Beevi's articles addressed different audiences from time to time while she mostly adressed Muslim women.