Bihari mother spearheads campaign to teach migrant workers Malayalam
Updated: Nov 9, 2020 - 16:35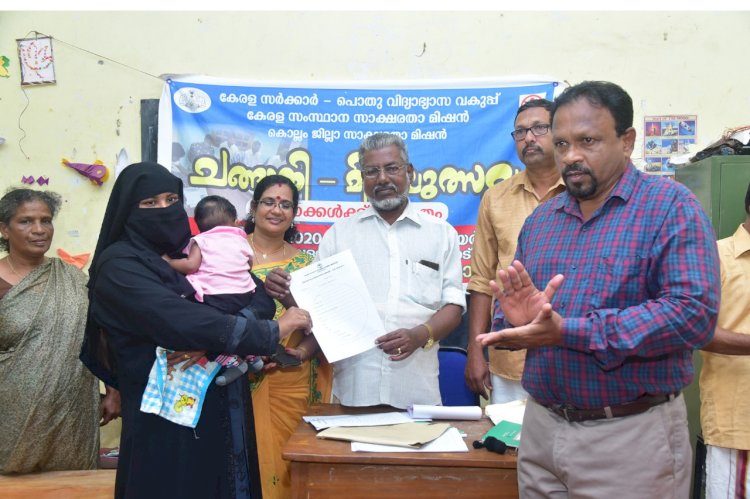 Romiya is felicitated by Kerala State Literacy Mission
By Aneesudheen V P, The Site
After turning to be an igniting inspiration, the lady from Bihar is on a mission to help workers from other states acquire Malayalam literacy. Romiya Khatun from Katihar district of Bihar is now the brand ambassador of the Changathi project by the Kerala Literacy Mission in Kollam district after she emerged as topper this year.
"Most of the guest labourers are still clueless about the Changathi programme and its goals. Some of them are confused while the current political scenario following NRC and CAA controversies prevent others from registering their names," Romiya told TheSite.
Romiya goes to labour camps with literacy workers and convinces them. "I ask them to attend the classes regularly and appear for exams after making them aware of the cause. The course will help them get better jobs and easily become part of the local community," she added.
Vijayakumari, literacy coordinator in Mayyanad panchayat where Romiya resides with her husband Safarulla and kids, said the project started to evoke better response after Romiya volunteered to help Kerala Literacy Mission staff. "Her drive is gaining popularity," she added.
Named Changathi, which literally means friend, the literacy programme, in its first two phases, helped 4,000 guest workers acquire proficiency in Malayalam. It's aimed at making learners proficient in Malayalam within four months. The learners are given a textbook titled 'Hamari Malayalam'. With 25 chapters, the book teaches terms that are of constant use in a work environment and covers areas including health, food and travel. Learners undergo six hours of classes a week in classrooms near work and accommodation places of labourers.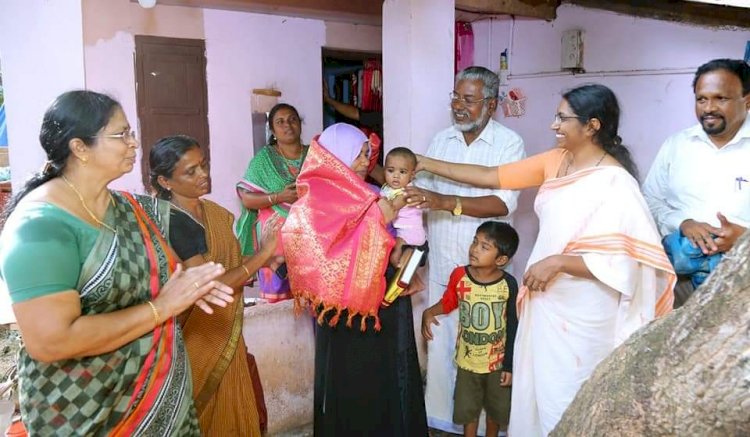 Kerala State Literacy Mission director Dr P S Sreekala congratulating Romiya
Safarulla who came here ten years ago is running a small juice stall at Umayanalloor in Mayyanad panchayat. Their kids Umarul Farooq and Muhammad Thouseef are studying in government LP school at Vazhappally.
Driven by the quest to help her kids complete homework, Romiya went the extra mile to learn the local language Malayalam. "I felt disappointed that I couldn't read what teachers wrote in their school diaries. I couldn't help them at home because I didn't know Malayalam," she said adding she is glad she will no longer suffer while it comes to helping her children.
Literacy Mission officials say Romiya was an active learner registered in Changathi centre at Mayyanad. And she rose to stardom when she scored full marks in the final examination held at Vellamanal high school. She was the single woman among 268 examinees. Romiya came to the exam centre with her three kids including the four months old baby Thamanna.
" Romiya was keen on learning Malayalam. She was not merely a learner but an inspiration for other learners. She helped us draw migrant workers from nearby localities'' says Pradeep Kumar, Kollam district coordinator of the mission.
Romiay is thankful to the Literacy Mission since its officials extended full support. "Having a newborn baby, I was unable to go outside on a regular basis. I was given classes at home by literacy instructor Sreelatha," she said. Although she missed many classes due to post delivery bedrest, Romiya scored 100 marks in the exam.
P S Sreekala, state coordinator of the mission and many other officials congratulated her at her residence after the results were out in February.
Romiya doesn't want to stop her quest for knowledge and has decided to go on her mission to spearhead the project. "Several migrant labourers seek their livelihood here. I want to inspire others. The linguistic and regional boundaries can never be obstacles for better social life if one turns steadfast to cope with them," she said.
According to studies by Gulati Institute of Finance and Taxation, Kerala was home for 2.5 million labourers from other states while studies indicate that the number could go up to 5.5 million in 2020.
Romiya hopes the Literacy Mission will help her complete tenth class. She says it would be helpful for further studies if she could get better living circumstances.