Biography of Sheikh Syed Abdul Qadir Jeelani (RA) released by Grand Mufti of J&K
Updated: Feb 14, 2021 - 22:01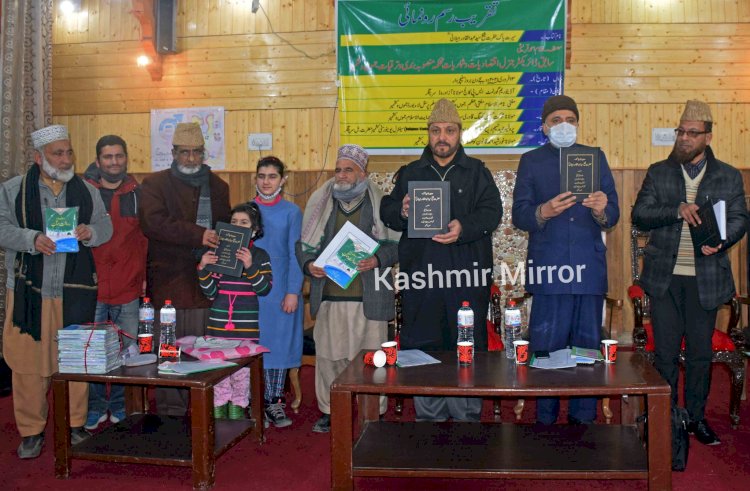 A great saint will be remembered for all times to come as G A Qureshi has taken great efforts to pen down a biography on Sheikh Syed Abdul Qadir Jeelani (RA).
'Aeerat-e-Pak' of Hazrat' the biography in Urdu language was released by Nasir-ul-Islam, the Grand Mufti of Jammu and Kashmir at S P College Srinagar on Saturday.
Jeelani was a great saint whose concept of Ṣūfism was that of a holy war or jihād waged against one's own will in order to conquer egotism and worldliness and to submit to God's will.
Qureshi talked about the relentless and selfless services rendered by the great saint for 40 years in popularising the universal message of Islam for the entire humanity.
In his presidential address, Grand Mufti Nasir-ul-Islam appreciated the author for his hard work in bringing out a comprehensive and authentic book on the biography and the religious, moral and spiritual teachings of Hazrat Sheikh Syed Abdul QadirJeelani (RA) and hoped that the educated youth learn and benefit from the teachings and the exemplary decent moral character of the Muslim saints and scholars.
"The great saint is respected by all shades of Islamic thought and would be remembered for all times for his sincere efforts for the revival of the true Islamic faith and culture based on the teachings of the Quran and Sunnah," Qureshi said.