One month of sit in hunger strike: activist continues to fight for justice for Maudany
Updated: Dec 17, 2020 - 20:26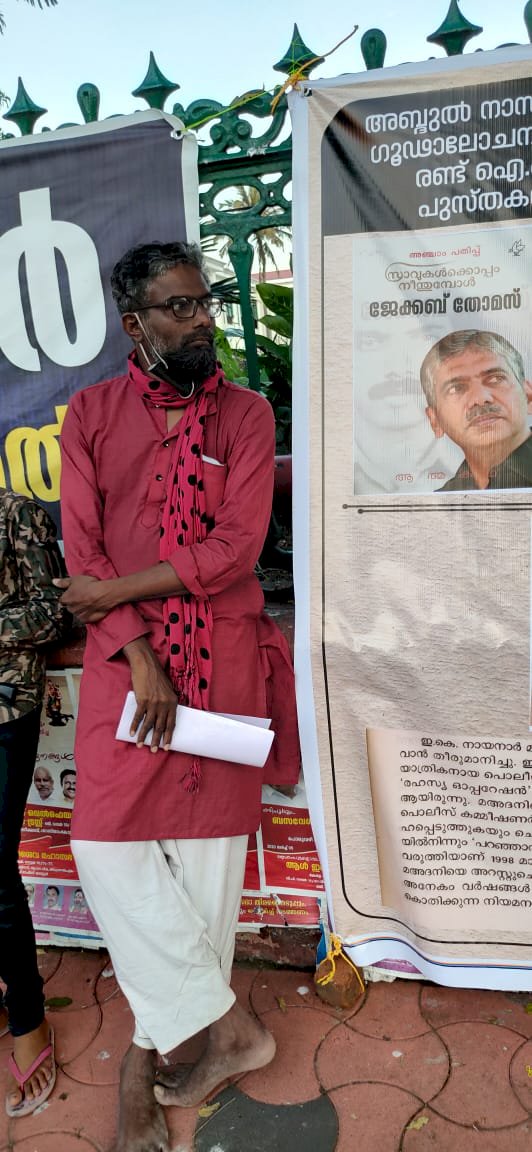 Kamal C Najmal holding sit in hunger strike in front of Secretariat
With various posters dominating the nearby walls and another large photograph of Abdul Nasar Maudany looking down from another wall, Kamal C Najmal sits on the road in front of the Secretariat in Thiruvananthapuram. He is on a sit in hunger strike in the capital city demanding attention towards the case of Maudany, who has been languishing inside his residence in Bengaluru since 2014 after spending four years in Central Jail, to where he was taken in 2010.
"References in the service stories of two IPS officers that admit the conspiracy behind Maudany's arrest," a poster, placed on the wall here reads.
The poster has displayed autobiographies which are service stories of two former IPS officers of Kerala. And they reveal details of how People's Democratic Party (PDP) chairman Abdul Nasir Maudany was framed. The disabled and middle aged Muslim leader, who asserted firm on his identity and unity of the oppressed communities against tyrannical Hindu state was jailed after being accused in Coimbatore blast case in 1998. He was acquitted in the case in 2007 and was yet again arrested in 2010 in connection with the Bengaluru blasts case. In 2014, he was given bail on the grounds of deteriorating health on the condition of restricting his movements to Bengaluru.
That's Maudany square where Kamal has been in day-hunger strike since November 15 demanding the release of Abdul Nasir Maudani. Kamal's strike is an effort to draw attention towards Maudany's case, which he says is a blatant violation of human rights.

Kamal reads out paragraphs from two former IPS officers where they mention how they dealt with the arrest of Maudany. The books are 'Sravukalkkoppam Neenthumbol' by Jacob Thomas (2017) and 'Nirbhayam' by Dr Sibi Mathews (2018).
As Jacob Thomas writes it, "On 1998 March 31, I got a call from an important person from Trivandrum. I must arrest Maudany. I wasn't even aware that Maudany is settled in Ernakulam. I called up assistant police commissioners and asked if there are any cases against Maudany. They all replied that there are no cases. I replied to Trivandrum that since there are no cases against Maudany, I can't arrest him. It was clear for me that the reply didn't appeal the other end. By evening, a CI reached from Kozhikode. He informed that there is a case registered against Maudany regarding a speech. I doubt that case was created for the sake of his arrest. I sensed a trap in all these. On the next day Kochi has a cricket match. Massive gathering is expected. If the arrest happen prior to this, that will become a mess. Someone wishes that to happen and I be put in trial for that."
As Dr Sibi Mathews wrote, "During the EK Nayanar government, it was determined to arrest Maudany. The entire responsibility was taken over by police officer VJ who is a left lenient. It was VJ who prepared the 'secret operation' project and moved it on. The then City police commissioner was reluctant to arrest Maudany and discouraged his subordinates. VJ called an 'obedient' CI from Calicut and arrested Maudany from his house in Kochi's Kaloor in 1998. After that, CI received luring postings as VJ's gifts." Kamal read out the excerpts of the two books.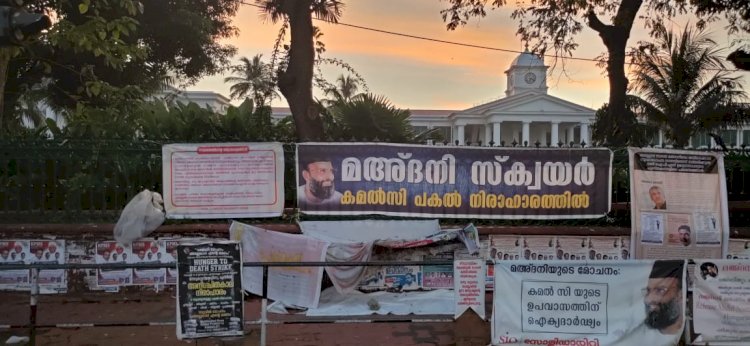 "Are these autobiographies the police officers write after retiring from the service just for fun when they mention the cost of a man's life? " asks Kamal. "Both of their autobiographies contain information about the framing of Abdul Nasar Maudany. The evidence is clearly available to the public now. There must be FIRs registered against them so that it will be accountable to prove Maudany's innocence."Kamal adds.
Three main demands of Kamal's protest are 'FIRs must be registered and there must be enquiry about the police officials involved in the conspiracy referred by Jacob Thomas and Sibi Mathews', 'Maudany must be provided assistance by the state to get out of the house arrest since he needs urgent surgeries', and 'the Kerala government must pressurise the Karnataka government regarding the same'.
On December 10, International Human Rights Day, Cantonment police blocked the preparations for a solidarity meeting which was supposed to happen at Maudany square. "I point out the role of both the left and UDF governments in making up the cases against Maudany," Kamal said.
On International Human Rights day, the protest was supposed to enter its second phase. Representatives of some political organisations and some individuals who joined him had decided to announce the second phase in a gathering at the secretariat. But the Cantonment station police took custody of the vehicle that provided megaphone settings and said that they will not allow any protest along with Kamal C Najmal in this case, Kamal said. Kamal further explained that he thinks this is because the state is worried at the chance for a public protest rising at this platform. But Cantonment police denied these charges alleging that the organizers didn't take permission for the protest.
Minority rights activist AM Nadwi said that the organizers have sought permission for the protest but the police usually give no written document as evidence to it.
What keeps this protest isolated?
What happened on December 10 is an indicative of the fact that the state government does not want this protest to become a movement that exposes the role of Kerala in the framing of Abdul Nasir Maudany. "To leave the case of Maudani solely to the due process is like waiting for the mercy of the same state that framed him. This movement was never a long term and a socially visible one. It's high time some should take up efforts to ensure Maudany justice," he explains. " Let those who notice the protest come at Maudani square and read what the IPS officers have written. The society that portrayed Maudany as a terrorist must also know about this framing too," he said.