Jamia workshop guides experts on preparation of Urdu Text Book for elementary level
Updated: Nov 4, 2020 - 15:33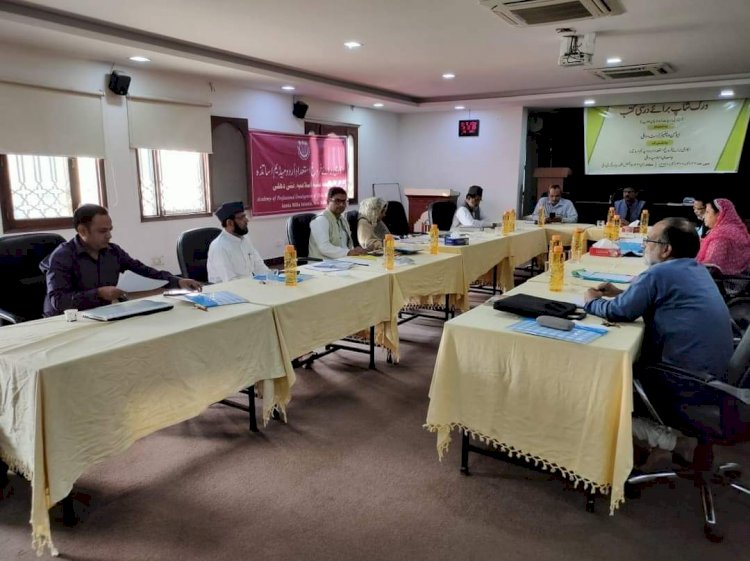 By Staff Reporter The Site
Academy of Professional Development of Urdu Medium Teachers, (APDUMT) Jamia Millia Islamia, has organized a six-day workshop in collaboration with Human Welfare Trust, New Delhi for the purpose to prepare a textbook of Urdu for elementary classes of English Medium from October 26 to 31.
The inaugural function of the workshop held on October 26. Syed Tanweer Ahmad, Director, Markazi Taleemi Board, Jamat-e-Islami Hind, New Delhi presided over the inaugural session. In his presidential speech, he highlighted the importance of the textbooks in one's academic journey. Furthermore, he took this opportunity to throw light on some important aspects of New Education Policy (NEP) 2020 in respect of textbook' preparation. He added that language Labs assume great significance for better and effective language learning. He said that the use of Information, Communication and Technology has become compulsory in the language learning process.
Prof. Ahmad Mahfooz, Honorary Director, Academy of Professional Development of Urdu Medium Teachers, JMI graced the occasion as chief guest. He talked about the innocence of children and told that children possess simple mind and that's why whatever is taught to them it is well received. Due to this reason, more and more precaution is required while preparing a text book for children. At this occasion, Dr. Wahid Nazeer, APDUMT, said that books should be prepared in such a way that they may not prove mere a tool for transference of knowledge but at the same time healthy values should be our target. Dr. Hina Afreen, APDUMT, Programme Coordinator, spoke that objective of education is not only to collect degrees and certificates but at the same time training of students plays a vital role in shaping one's personality.
The valedictory session of the six day workshop held on 31-10-2020.Mr.Saleemullah Khan, Engineer, Assistant Secretary, Markazi Taleemi Board, Jamat-e-Islami, Hind New Delhi presided over the session. He said that fostering ethical values, acquainting cultural values and training growing mind and cognitive skills according to new age are few among the many objectives of education to be imparted. He said that for this purpose it is necessary to use information communication to train and enhance the teaching skills of those Urdu teachers who are teaching in remote areas of the country so that the students across the country may get the benefits of the teaching expertise equally.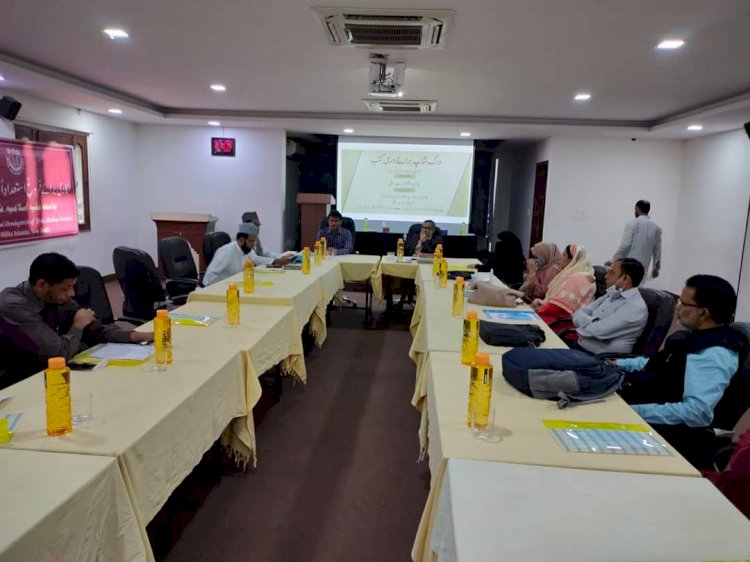 Prof. Ahmad Mahfooz, Honorary Director, Academy of Professional Development of Urdu Medium Teachers, JMI attended the valedictory session as chief guest. He said, in his speech that preparation of textbooks for elementary level is tougher task in comparison with higher standards. Keeping in mind the children's psychology, their interests and their mental levels while preparing textbook for them required a great deal of academic competence along with practical experiences. Due to this, subject experts and resource persons were invited from varied academic backgrounds such as universities, schools and training and research institutions.
Dr. Asif Zahri, Associate Professor, Jawaharlal Nehru University, New Delhi expressed his views and said that the book is good and would prove to be an effective tool for students to learn Urdu language. Aisha Rahman, T.G.T Jamia Middle school, Jamia Millia Islamia, New Delhi said that there are a number of Urdu textbooks available in the market but at the elementary level these books needed revisions. She added that it's matter of pleasure that the very aspect has been incorporated while preparing this textbook.
At the beginning of the valedictory session, Programme Coordinator, Dr Hina Afreen presented the detailed report of the six-day workshop. In short, she mentioned those principles which have been applied in the process of preparation of this textbook. Dr Wahid Nazeer compared the programme. At the end of the programme, certificates of participation distributed among the resource persons. The valedictory session concluded with the vote of thanks presented by Maulana Inamullah Falahi, Coordinator Markazi Taleemi Board,