Siddique Kappan's arrest was unconstitutional. But our quick erasure of his struggles is even worse
Updated: Nov 1, 2020 - 21:14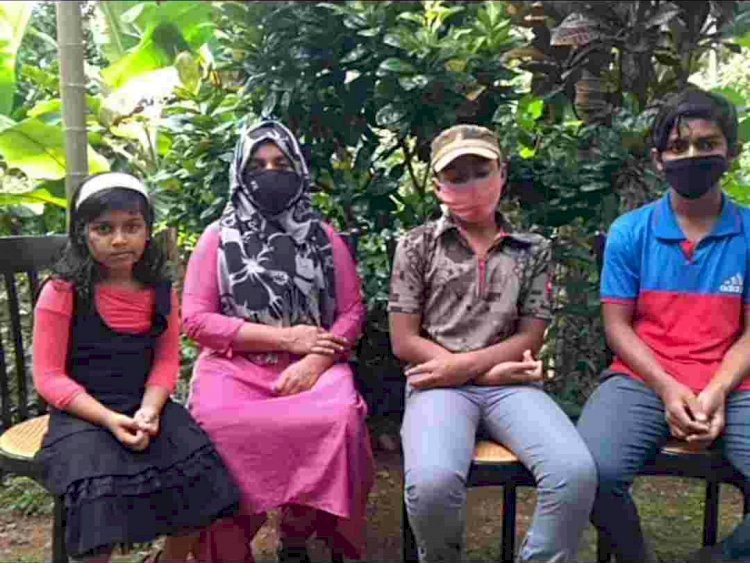 Kappan's wife Rayhanath and children

By Mrdula Bhavani, The Site
It has been almost a month since the arrest of Kerala journalist Siddique Kappan under the draconian UAPA. His crime? He was on his way to report from Hathras. In the initial days, there was a lot of murmur in the mainstream media about the arrest but as is often the case, the mainstream media moved onto other 'important' issues. Mrudula Bhawani of The Site, however, has ensured that Kappan's story is neither forgotten nor de-valued.
In the month that has followed Kappan's arrest, neither his family nor his lawyer has been able to hear or meet him. Such is the severity of the matter that the Kerala Union of Working Journalists, the journalists union he represents, has filed a bail petition at the Supreme Court. All because he dared to report the Hathras incident.
"We weren't informed about his arrest. We came to know about it from the media. We have a daughter. I'm proud that my husband went to report this brutal case of rape," said Reyhanath, wife of journalist Siddique Kappan, at their residence in Malappuram's Vengara. The arrest happened a day after the UP government registered 19 FIRs against the protesters who pointed at the institutional impunity of Thakurs.
Kappan was travelling with two national leaders of Campus Front of India, Atiqur Rahman, and Masud Khan, a student at the Jamia Millia Islamia. As per reports, they were arrested at Mathura toll plaza and booked under conspiracy charges and rioting. The FIR against them alleges that the four of them have conspired with international funding for the protests against Hathras gang rape and institutional murder of 19-year-old Dalit girl. Section 15 and 17 of UAPA, sedition and IT Act has been charged against them. They cite justiceforhathrasvictim.cardd.co website as evidence for this. But reports challenge the authenticity of this website. His advocate Wills Mathew said till date, there is no formal information available on Siddique Kappan's whereabouts. He also said when tried to meet Siddique in jail, he could hear several prisoners crying out to be heard from the temporary prison building of Mathura jail.
Siddique Kappan's family at Poocholamadu in Malappuram's Vengara is more than worried about his illegal detention and whereabouts. His mother, partner, children, relatives and neighbours are anxiously waiting.
Reyhanath says the journalists must protest and work for his release since the similar framing can happen to any journalist who even attempts to decipher and disseminate truth. "When Congress leader MM Hassan visited us, journalists came here to cover the visit. I told them they have to protest instead of following political leaders who visit us. Since Kappan is working with Azhimukham.com, a media organization that does not have a private vehicle, it is reasonable that he was awaiting any possible means to travel, he would depend on any means to travel," she said.
It is important to note how the pandemic has severely hit on the movement of media persons with limited resources. Kappan is one such journalist. "He built this house with only his earnings. He didn't want to take any loan," she said.
Their house has been under construction for eight years now. "For us, Siddique is missing. We have no idea what happened to him and we have no evidence that he is in the state's judicial custody. The only proof that says he is with the police is his photograph" Reyhanath expressed her anxiety. Since the day of his arrest, Reyhanath says she has not been able to sleep or eat properly.
"We demand journalists to intervene in this case. It can happen to any journalist who tries to do honest reporting. This is what is going on in India. Freedom of the press is no more. What wrong did he commit to be charged with the UAPA?" asked Siddique's elder brother Hamza. Their ninety years old mother Khadeeja Kutty is yet unaware of what has happened to Siddique. She enquires him every day as he used to make regular phone calls to her.
Muhammed Ali, representing Poocholamadu Citizens Committee says the citizens' committee is in a protest demanding the release of one of them. "I'm Siddique's neighbour. The Citizens Committee organized a protest two days later Siddique's disappearance. I am intentionally calling it 'disappearance'. When the police arrest someone, it must inform the relatives. Such a thing didn't happen in his case, and we are still unclear about where he is now. We hear that he is arrested but even after two weeks his lawyer is not allowed to meet him, what could we assume by this? This is an absolute human rights violation. The government must intervene in this case and I think the Kerala CM's response isn't acceptable. The Citizens Committee will follow up this case and organise protests following CoVID protocol. Journalists must resist this and the government must intervene." Ali said. Kerala CM Pinarayi Vijayan had said that it is outside of his power to intervene in this case.
Returned from Gulf to work as a journalist
Siddique had returned from the Gulf in 2011, and he took up to journalism. He had worked in various newspapers including Thejas and Thalsamayam and lately joined Azhimukham. Both newspapers got shut down due to reasons including state clampdown on press and lack of capital.
His ex-editor at Thejas and senior journalist NP Chekkutti recollects editorial experience with Siddique. "Kappan was one of the two Delhi reporters who were posted in Thejas daily in initial batches. Ours was a small newspaper. We were focusing on minority issues. Siddique had reported extensively from Delhi, the developments in national politics and from Northern states, regional elections etc. He did Supreme Court reporting. During the period we received daily reports on SC proceedings. He is an extremely careful, balanced reporter, I had a good time with him," but when the newspaper faced the limit of a clampdown in 2018, Siddique had to leave the organisation, Chekkutti said.
Siddique started reporting for Azhimukham in January 2020. His reports include issues the pandemic, public policies, aftermath of RSS violence on Muslims in northeast Delhi and cases of state repression.
Several news reports allege that Siddique Kappan is a PFI member and has been arrested for the same. His family members reject this allegation. There is no mention about the same in the FIR.
''We can't find any crime committed by them. The arrest is part of the 19 FIRs the UP government registered on October 4, and the arrest happened on October 5. The pamphlet police claims to have seized from them as evidence is fabricated," said Campus Front of India's national president Sajid Syed.
On October 16, Mathura CJM rejected Kerala Union of Working Journalists' petition seeking permission for Siddique's lawyer Wills Mathews, family and KUWJ members to meet Siddique Kappan.
KUWJ Delhi unit member PK Manikandan says, "In the hearing of habeas corpus petition, Kapil Sibal argued that no justice will be available from the courts in Uttar Pradesh. The court replied that if there is any trouble you can approach us again. If to file a bail petition in the Allahabad high court, we must be aware of what the detainee says. Bail petition can only be filed with such details. We need to talk to Siddique Kappan first to know what happened and let the court know about it, through the bail petition. We tried to meet Siddique three times. We went to the court and police. But we weren't permitted. Finally, when the lawyer waited day long to meet him they informed that was not possible. On Friday they issued an order saying the same. This is a strange act. The lawyer must be allowed to see him first. Even that is denied. We have to resort on the SC. This case can't be handled like a normal case. UAPA and sedition are charged and a journalist is framed. We can move legally only based on facts. Even the right to know the fact is denied. We are in process to approach the Supreme Court."
"The present case has witnessed a complete denial of the fundamental rights of the Detenue, from the act of rejecting the oral request of the lawyer of the Petitioner for meeting the client and to get the vakalatnama signed at the time of production before the Ld. CJM, Mathura on 06.10.2020 to the act of rejecting the proper application of the lawyer and the officials of the petitioner for an interview with the Detenue, despite annexing the Order dated12.10.2020 passed by this Hon'ble Court in the present writ petition. Over and above these violations, the horrific conditions of the prisoners in the New Temporary jail of Mathura even without basic security measures against the COVID-19 virus amounts to a serious denial of their fundamental rights and the express directions of this Hon'ble Court in Suo Motu Writ Petition (Civil) No.1/2020 titled "IN RE : CONTAGION OF COVID 19 VIRUS IN PRISONS." the bail petition reads.
Since the lawyer, relatives, associates and colleagues of Siddique Kappan aren't allowed to meet him till date, the petition stresses the diabetic condition of Siddique and him being the sole earner for the family. "Arresting a journalist is the end of rule of law and end of democracy," says Siddique's lawyer Wills Mathew. Several protests by journalists, human rights groups and political parties are going on in Kerala demanding Siddique's release.
A Mathura court extended the judicial custody of the four arrested including Siddique Kappan till November 2.