Outsider no more: How migrant children are keeping pace with Malayali students in Kerala
Updated: Oct 4, 2020 - 16:46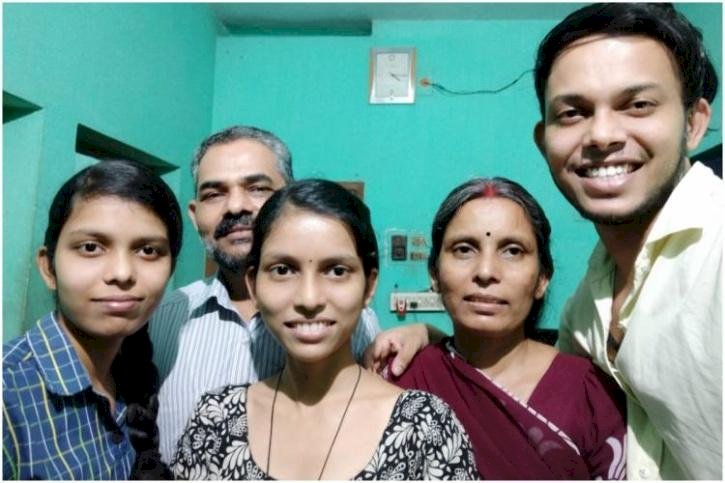 By Mrudula Bhawani, The Site
When Payal Kumari, daughter of a migrant labourer from Bihar won the first rank in BA archaeology and historical studies in MG University, it became a viral human-interest story, and for a good reason. Amidst all the gloom around the global pandemic, marking some characteristics of victories like these is valuable.
Payal belongs to the early migrant families who moved to Kerala in the 1990s. Inter-state migration to Kerala from other states increased by 2000s, with the National Sample Survey 2007-08 recording one million people migrating to Kerala. The struggles and challenges of coping up with Kerala grew along with that.
One of the challenges was educating their children. Migration from UP, Bihar, West Bengal and other states reshaped the unorganized work sector in Kerala by assimilating into and with Malayalam.
"I studied at Marthoma college. It is a women's college, which is why I could mingle with the environment easily. I felt like I have a new life there. Teachers in the college were friendly, unlike high school classes. They were friends outside the classroom. I had decided to pursue humanities from high school. We were admitted to a school in Kaloor, Ernakulam during primary education. Even when my brother passed 10th, parents couldn't afford to pay the fee for all of us. So, the school decided to exclude one of our fees. By the time I reached the ninth standard, I and my sister were shifted to government high school at Idappally," Payal told The Site.
Payal wants to pursue higher studies and has applied for PG in central universities including JNU. She liked archaeology and was attracted to it during the time she spent with books at the library.
"Many people consider me a friend. No one alienated me saying that I'm from another state. My teachers used to say I have bigger responsibilities. But some students looked down upon me. I didn't care about them and ignored. I didn't let them influence my life" she added.
Her father, Pramod Kumar Singh, talked of the initial struggle when he moved to Kerala in 1997. "I didn't know the language. I was alone, there weren't many Hindi-speaking people. My only intention was to educate my children. Everyone knows in Bihar education is almost unattainable for girls. Thinking of all this, I came to Kerala, aspiring good future for my girls. The village was chaotic. I didn't want to continue there. I am an early migrant in Kerala. We were taunted by others for our will to continue working in Kerala, but my wife Bindu tells me whatever we are supposed to do, we must do."
Ernakulam is one district where a large number of migrant labourers live and work in Kerala. As per the government data, there are about two lakh migrant labourers in the district. Since the pandemic lockdown began, migrant labourers mostly from northern states have protested for facilities to get back home and about the flaws in lockdown relief made by the state government. Their protests were seen as politically motivated, and some of them charged with cases filed against them. But many migrants didn't leave the state even in the uncertain social conditions. Some of them are staying back in Kerala considering their child's education.
Sakshi, a tenth-class student from Rajasthan, has been in Kerala for the past six years and said her friends were extremely supportive during the early years in Kerala. "I didn't know how to write Malayalam. They helped me to do that. I moved to Kerala as my father's business was shifted to Kerala. Education too was considered an important requirement," she said. Sakshi's brother is a student in the eighth standard. "We had extra classes for the basics of Malayalam. We were provided with short notes and reading materials. I am interested in science subjects. But I would like to be a chartered accountant," Sakshi said.
Sakshi's father Darshan Singh reached Kerala in 2011. After a year, his family too moved to Kerala. Darshan Singh says the reason for that was providing a good education for his children. "After 10th, students are supposed to go for earning." Back home, he says there was not much attention given to education. He runs a wholesale shop of steel vessels in Ernakulam said the reason her family moved to Kerala is the better educational environment it has. Darshan Singh said that most migrants from Rajasthan are engaged small-scale business, not in daily wage labour.
ROSHNI: Shining light on the future of migrant children
These students in different schools recollect how it is being in Kerala schools. Najwin Sulthana from Assam, Raju Khan from Lucknow, Uttar Pradesh and Lakshmi Das from West Bengal now speak fluent Malayalam. Najwin, Raju and Lakshmi said that they found it helpful and friendly to be in the ROSHNI classes, a 2017 pilot project for primary level language classes for migrant students in the district of Ernakulam.
Najwin Sulthana writes poems in Malayalam apart from painting and drawing. She is in the fourth standard, who couldn't attend school because back home because of her disability. Her family reached Kerala three years ago. Najwin took admission to Puttumanoor GUPS school in Ernakulam, directly to fourth standard last year. She picked up on Malayalam from her elder sister who was already in school. Hussain Ali, Najwin's father, emphasized that they prefer to continue in Kerala. "Najwin was provided with wheelchair and ramp, we used to take care of her and she gets special attention by a special education trained teacher from BRC. She now writes and speaks Malayalam," said Mary, the headmaster in charge of GUPS Puttumanoor.
Raju Khan, a fourteen-year-old student from Lucknow, UP has been in Kerala for eight years now. Raju's parents migrated to Kerala for better employment and a sustainable income. The family didn't leave Kerala during the pandemic lockdown. Raju had no digital means to be part of 'First Bell' online classes during the lockdown. He was provided with a TV by school teachers.
Lakshmi Das from West Bengal, daughter of a construction worker named Chotan began her studies in Kerala. During the pandemic, her family is staying back like most of the migrant students since they did not want to discontinue education. "We are staying back despite adverse conditions due to the pandemic. There is rarely any work that can be found here. But we are staying only because we do not want to end the schooling of my child," said Chotan. We want to continue Lakshmi's education," he added.
The language education provided by ROSHNI in 38 schools, specifically in primary classes, has helped over the years to sustain and retain migrant students in schools instead of dropping out, their website claims. Implemented in 2017 exclusively for students of migrant labourers, ROSHNI is a project that envisions bridging the linguistic gap between migrant students and Kerala schooling system. To cope up with the digital divide, ROSHNI has opened few centres for accessing online classes with assigned trainers all around the districts.
The project was proposed by a teacher named Jayashree who works at GHS Binanipuram, Ernakulam, and is run in collaboration with the education department and district administration.
Code-switching is the pedagogical tool used for this language study program. ROSHNI aims at ensuring Malayalam language classes through various languages as mediums of instruction. Some volunteers are efficient in different languages as trainers. The classes are held in the early morning, with breakfast provided. The project got a mention from the governor that it could be implemented to other districts in the state as well. According to the data gathered by Samagra Siksha Kerala, migrant students constitute 44% of the total students in Kerala schools, as reported by IndiaSpend.com.