Statistics say conversions highest to Hinduism in Kerala
Updated: Apr 1, 2021 - 20:43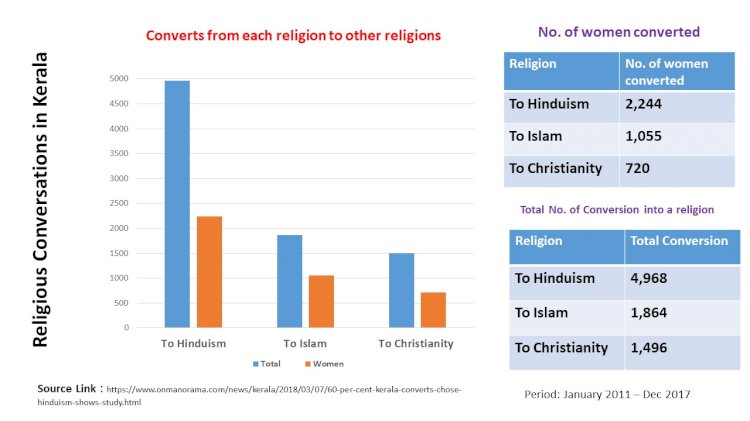 Ahead of elections, allegations of Love jihad are steaming in the air and even promises of laws to secure women from it are being made.
Religious conversion is not a recent phenomenon. It has happened in all ages. But unfortunately, it is now being devised for communalism and fear against Muslim men are being produced.
A study by Media Research and Development Foundation at Kozhikode reveals that the maximum number of religious converts chose to embrace Hinduism.
The research had studied gazette records in Kerala from January 2011 to December 2017 and found that a total of 8,334 people chose to convert to a different religion and published a name change in the official gazette.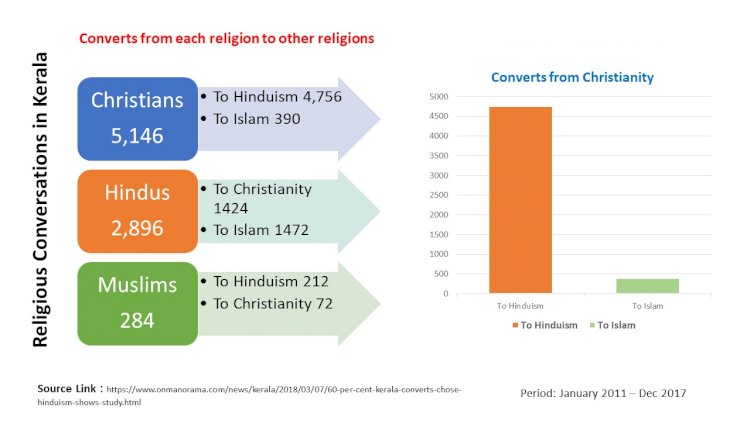 Of the total religious conversions, the biggest chunk was Hinduism with 4,968 converting to Hinduism.
The lowest conversions were to Buddhism with just six people choosing it. The seven years taken for study witnessed 1,864 conversions to Islam and 1,496 to Christianity.
Of the total converts to Hinduism that is 4,968 nearly half of it, 2,244 were women.
The statistics of conversion to Christianity stood a total of 1496. In which 1,424 Hindus and 72 Muslims converted to Christianity. The number of women converts were 720 in total, 1496.
Islam had a total of 1,864, of which 1,472 converts were Hindus, 390 were Christians and one each from Buddhism and Jainism. The number of women converted is 1,055.
Conversions to Buddhism had a Christian and five Hindus in which two were women.
While the data of the study has been collected by intelligence agencies, there is apprehension that the list may have excluded converts who did not publish a name change in the gazette.